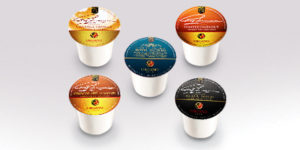 Organo Gold continues to brew up positive comments in the blogosphere, as more and more bloggers are discovering the benefits of OG's ganoderma infused coffees. The latest glowing review comes from the Mommy blogger behind All Mommy Wants (And Everything She Needs…).
In addition to focusing on her two beautiful kids and their love of Disney movies and road trips, this mommy blogger has a particular focus on health and wellness. So she jumped at the chance to sample OG's coffee. "Those of you who know me know that my day doesn't remotely begin until I have had my cup of coffee," she writes. This blogger was particularly impressed with the premium nature of Organo Gold's coffees, and sampled the OG Caramel Vanilla BrewKup product, which blends OG's renowned premium coffee and ganoderma with rich caramel and creamy vanilla.
She wrote that she was very impressed with the flavor and the quality of the coffee. "The Organo Gold Caramel Vanilla is smooth, rich, and full of flavor without being overly sweet like some flavored coffees can be. You can taste the true organic nature of the bean, no chemicals, and perfectly balanced. I never realized how much of a difference there is between store-bought coffee and premium coffees."
The blogger also shared some information about the history and properties of ganoderma, the prized herbal supplement that makes OG products so unique.
Organo Gold clearly has a new fan, and it always makes us proud and happy when people spread the word about their admiration for our products. Read the full review here, and be sure to share this latest glowing blogger review with all of your OG team members, friends, customers and prospects.