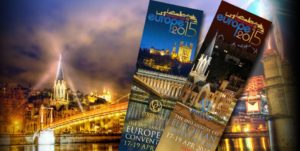 If people are asked to describe France using images, most of them would instinctively recall famous artworks, miles of vineyards, wheels of cheese and a black-white picture of bohemian cafés with their writers and painters. For some of them it might be simply because they visited France and set, at least once, at an outdoor table of one of the thousands cafés around the country, listening to a romantic accordion playing, reading a newspaper and sipping a "noisette" or a "petit noir". The remaining that didn't do it yet are surely planning to, as it is a must on any travelling guide as much as visiting Louvre.
The French culturalization of coffee finds its origins back in the XVI century when keen adventurers and commercial travelers brought coffee beans from East and North Africa to the south of France discovering their potential. The Sultan of Yemen himself offered coffee beans to King Louis XIV as royal gift. From Versailles to the other side of Atlantic, the route of coffee broadened to French Guiana and the Caribbean. It is said that from Guiana the beans were exported to Brazil were the plant flourished, becoming renowned worldwide until today, while from the Caribbean these special beans became part of the Creole culture moving later towards North America.
Once the coffee plants established their prominence in South America as the most powerful resource after gold, colonist and missioners brought this green nugget back to Europe were history was just about to be made: Louis Bernard Rabaut invented the first prototype of the espresso machine, while Edouard Loysel of Santais marketed it in 1843 and first deployed during the Paris Exhibition in 1855 demonstrating the ability of this machine to prepare up to 1,000 cups of coffee every hour.
From "Les Deux Magots" to "La Rotonde" in Paris where Hemingway, Proust, Simone de Beauvoir, Picasso and many more were his regular customers, from "La Claire Fontaine" in the French Riviera and the "Café Terrace" or also known as the "Cafe van Gogh" in Arles, this valuable granite was able to travel the world doing that blur and black and white, which is already part of our imagination, become a hallmark behind this popular drink .
Wherever you are in France make sure you take your time to choose from café serré, café glacé, espresso, café-au-lait and if you are not in France try the French pressed coffee!
With all this history Organo Gold could not pick a better location for its second European Convention: DREAMTEAM EUROPE will be in Lyon on 17th-19th of April 2015. Visit euconvention.organogold.com for more information.