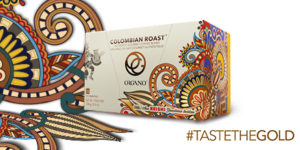 Yet another new treasure to behold was unveiled, to a screaming crowd, at ORGANO™'s 2015 International "Ignite" Convention – Meet ORGANO™'s new Colombian Roast!
When the Universe desired a real cup of coffee, it made Colombian. Why? We were hoping you would ask. Colombia is considered the happiest country in the world. Could it be Colombia's endless summer, as there is no winter near the equator?  Or, maybe it's because Colombian coffee is known to be among the best in the world, with a rich, full-bodied, and perfectly balanced taste.
Perhaps it is a bit of both! The good news is we decided to bring a cup of Colombian sunshine and happiness home for you.  With an impressive and original blend, made from the finest Colombian coffee beans, our rich and robust Colombian Roast will make waking up the best part of your day.
All over the world, people from every corner daydream about a rich bold delicious cup of 100% Colombian Roast.  ORGANO™, the company that brings the treasures of the earth to the people of the world, is proud to announce ORGANO™'s newest single serve eco-friendly, brewing cup – Colombian Roast!