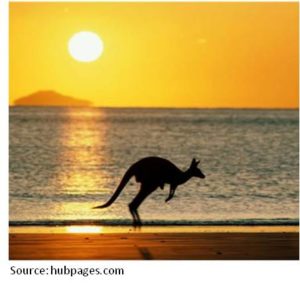 At Organo Gold, we are in full swing summer mode, but it's winter for our south of the equator neighbors in Australia.  Chilly from June to August for most of the country, not only are the seasons different for our Aussie mates – so is their lingo – let's go down under and explore it:
Strine & Blowies: Aussie slang is referred to as "Strine" (characterized by making words as short as possible).  The story goes it developed by speaking through clenched teeth to avoid "Blowies" (blow flies) from getting into the mouth.
Fair Dinkum: True, real, genuine; like the Ganoderma infused Organo Gold family of products.
Grommet: A young surfer; you'll be certain to see them in California at  IGNITE August 29-31, 2015.
Ripsnorter: Something that's really great; like the BrewKups Bonanza Promo Pack (Until August 16th).
Tall poppies: Successful people; exceptional members of OG's prestigious Leadership Team.
Chin-wag: Having a good chat; with your favorite OG Coffee, Cafe' Latte, or Gourmet Cafe Mocha.
Togs: Swim suit; don't forget to bring yours to Los Angeles for the IGNITE Convention in August.
Yakka: Work; you will need plenty of your favorite OG Single Serve BrewKups to start the day!
Arvo: Afternoon; a great time to enjoy OG's Red, Green or Black Ice Tea (hot or cold).
Tradie: A tradesman; sparky (electrician), chippy (carpenter) or dunny diver (plumber).
Rug up : Dress warmly; a reminder to our friends down under this winter season.
Ta: Thank you; OG for Bringing The Treasures Of The Earth To The People Of The World
Good onya, mate!  Whether you are seeking relief from the cold or the heat – Organo Gold has the perfect Sachet or BrewKup to compliment the season.  And, if you ever plan to visit the world's smallest continent, understanding the Aussies should be a bit easier now.