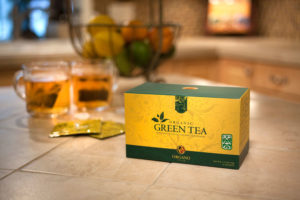 One of the archetypal images of France is that of a beret-clad Parisian sipping a cup of coffee. But tea actually has a surprisingly robust history in France. We thought we'd take a look at some of the intriguing facts about the French and their love of a cup of tea.
1.  It's a little known fact, but after its introduction to Europe in the 17th century, tea became tremendously popular in France.
2.  When tea first came to Europe, the two countries that imported the most tea were the Netherlands and France.
3.  Tea first arrived in Paris in 1636 — 22 years before it appeared in England!
4.  At first it was imported primarily for medicinal purposes, as doctors believed that tea, particularly green tea, could treat all manner of illnesses but particularly gout, a disease prominent in the upper classes of the time.
5.  Louis XIV, also known as the Sun King, was said to have been an avid consumer of tea, to help alleviate his case of gout. Madame de Sévigné, a prolific letter writer at the time, chronicled the tea-drinking activities of the Sun King and his companions in gossipy letters to her daughter. "Saw the Princesse de Tarente, who takes 12 cups of tea every day… which, she says, cures all her ills," de Sévigné wrote.
6.  Madame de Sévigné also reported that it was a Frenchwoman, the Marquise de la Sablière, who initiated the fashion of adding milk to tea.
7.  While it is inherently associated with the English, it is believed that it was actually the French who began the tradition now known as "afternoon tea."
8.  In contemporary France, beautiful, elegant, gastronomic tearooms thrive, particularly in urban areas. A BBC News magazine story in April 2014 described what it dubbed France's silent tea revolution. "Inside France a sudden fashion for tea has swept the middle classes. Specialist tea salons are spreading, in Paris and beyond," the story reported. "People take classes to learn how to taste and to serve. Literally hundreds of varieties and blends are now available."
It seems when it comes to the French and tea, everything old is new again!
The reason Organo Gold is busy exploring French culture is because we are preparing for the big OG European Convention which is taking place in Lyon, France on April 18-19. OG's Dream Team — Founder and Chief Executive Officer Bernardo Chua, Co-Founder and Global Master Distributor Shane Morand, and Executive Vice President of International Sales Holton Buggs — will celebrate the success and growth of OG Europe during this two-day event.
See this website for tickets and more information about this historic OG Europe event.