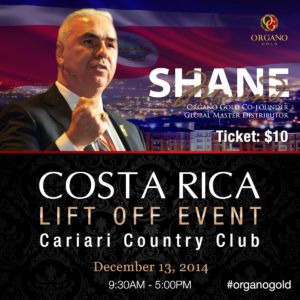 Costa Rica is a land where they love life — and coffee! So Organo Gold is excited to be part of this incredible market and is already blown away by the enthusiasm for and potential held in this vibrant region… so much so that OG Co-Founder Shane Morand will be in Costa Rica this December 13th to hold leadership training's at our Lift Off event .
For those of you who aren't familiar with Costa Rica, we've prepared some fun facts to share with you just some of the many things that make the culture of Costa Rica so wonderful, and such a perfect fit for the Organo Gold lifestyle and products.
1.    "Pura vida" is the national saying in Costa Rica, and it means "pure life." It is a sunny, feelgood, multi-purpose expression that can be used as a greeting, agoodbye salutation, or as a reply when someone asks how you are doing. (So it's similar to "Ciao" in Italian.)
2.    Here's a fun fact for the parents of children studying geography — the sun rises and sets at the same time in Costa Rica, 365 days a year! That's because Costa Rica is located so close to the equator. The sunrise occurs at around 5:30 a.m. and the sunset at 5:30 p.m. There is no Daylight Savings Time, and Costa Rica's time zone is the equivalent to either Mountain or Central Standard Time in the USA.
3.    Costa Rica has more than 121 volcanic formations, seven of which are still active. Volcanos account for a large amount of tourism in the region.
4.    Instead of saying "my other half" as we do in English, Costa Ricans often refer to their significant other as their "media naranja" which translates literally as "the other half of their orange." It is a term of affection and – we think – an adorable (not to mention flavorful) one at that
5.    Costa Ricans REALLY love their coffee! Coffee was first planted in Costa Rica in the early 19th century, and was first shipped to Europe in 1843, and it soon became Costa Rica's major export. Today, Costa Rica cultivates some of the finest coffee beans in the world, but they are smart enough NOT to export all the good coffee and keep some of it for themselves! Rightly so, we think.