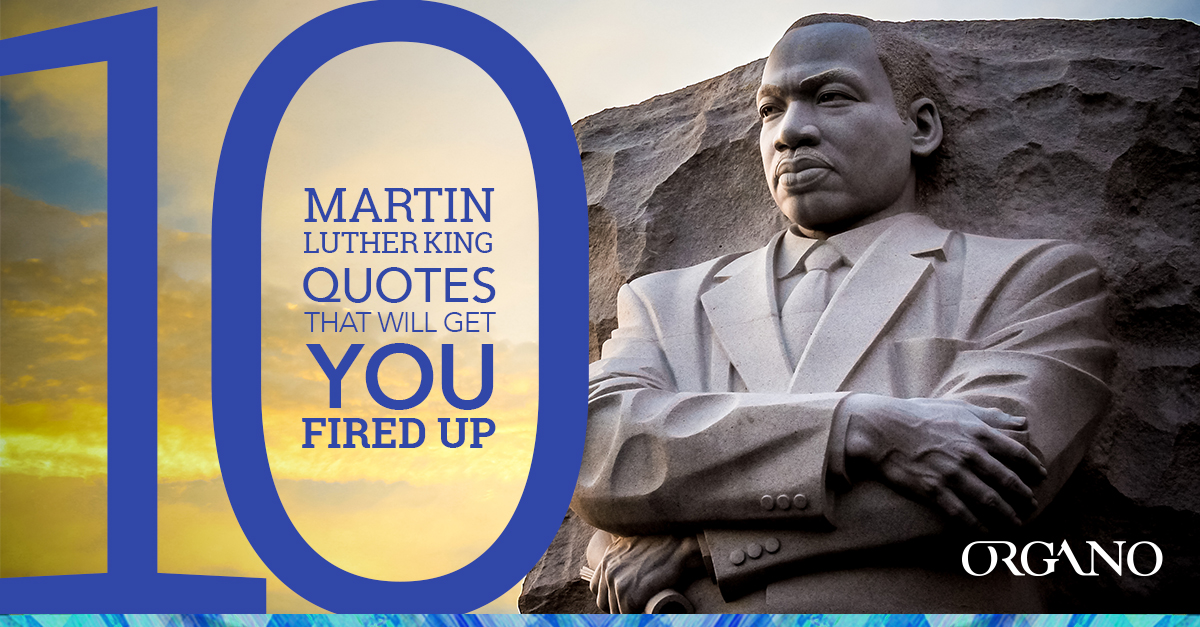 Today at ORGANO™ we are taking time to honor, and pay tribute to Martin Luther King, Jr.  On January 15, 1929 Martin Luther King Jr. was born in Atlanta, and today is the day we honor the seismic impact he had on race relations in the United States of America, and worldwide. King was both a Baptist minister and infamous civil-rights activist in the US, and among many of his honors, a Nobel Peace Prize recipient. But it was his "I Have a Dream" speech delivered on August 28, 1963 (at the Lincoln Memorial in Washington, D.C.), calling for an end to racism in the United States, that got a Nation Fired Up For Change! Here are a few more of his infamous quotes – To Get You Fired Up – and to remind us of the man and the magnitude of his contributions – not just in the USA – but globally:
*The ultimate measure of a man is not where he stands in moments of comfort and convenience, but where he stands at times of challenge and controversy.
*Faith is taking the first step even when you don't see the whole staircase.
*Our lives begin to end the day we become silent about things that matter.
*Life's most persistent and urgent question is, 'What are you doing for others?
*Injustice anywhere is a threat to justice everywhere.
*In the end, we will remember not the words of our enemies, but the silence of our friends.
*We must learn to live together as brothers or perish together as fools.
*Love is the only force capable of transforming an enemy into friend.
*Darkness cannot drive out darkness; only light can do that. Hate cannot drive out hate; only love can do that.
*I have decided to stick with love. Hate is too great a burden to bear.
And…
The time is always right to do what is right!
Through his activism, Martin Luther King, Jr. played a pivotal role in ending the legal segregation of African-American citizens in the South and other areas of the nation, as well as the creation of the Civil Rights Act of 1964 and the Voting Rights Act of 1965.  Forever in history, after his tragic assassination in April 1968, King continues to be remembered as one of the most acclaimed African-American leaders, and worldwide humanitarians. And, it all started with…. A Dream!
At ORGANO™ … it all started with an extraordinary cup of coffee – in a small shop with only three employees. Today, as a result of the hard work of our Global Family, Independent Distributors and employees, ORGANO™ is now operating in 50 countries.  ORGANO™'s strong foundation is built on the principles of Loyalty, Unity and Edification, and the goal of being one of the most admired companies in the world.  So today – Get Fired Up – Get Inspired – by The Dream, The Legend and The Man;  Martin Luther King, Jr.
sources:
http://www.organogold.com
http://www.biography.com/people/martin-luther-king-jr-9365086