Our Organo Gold ultimate training experience is almost here. That's right, this year's project 50K will take place in beautiful Las Vegas, Nevada and it will be packed with incredible training hosted by some of the industry's top leaders.
While you're in Vegas for the weekend, why not go out and enjoy some time on your own? You never know who you might meet there. Las Vegas saw 40 million visitors last year and is always packed with tourist looking to experience all that "Sin City" has to offer.
Most people that go to Vegas, are there as a tourist or for a convention, this is an excellent opportunity to meet new people and even sample your product if the opportunity arises. Here are some places that you can go and take time to mix business with pleasure.
The less than $10 Vegas strip tour:
Take a ride in double-decker buses that stroll the strip and all the way to downtown. Known as the Deuce, these buses come cheap at $6 for a two-hour ride or $8 to hop on and off all day. Bring your team or ride by yourself and enjoy the iconic Vegas strip.
Enjoy the spectacular water and light show at the Bellagio:
There are plenty of shows in Vegas, but this one is very special. The signature jumping fountain is just the teaser for the better attraction, O, a show by Cirque de Soleil. This sophisticated show features swimmers, divers, aerialists, contortionist and clowns performing acrobatic feats around a pool that contains more than 1.5 million gallons of water. This show is a must watch!
Travel to another country without leaving the strip:
The Venetian recreates the city of canals in the middle of the desert while the Egyptian vibe is invoked by the glass pyramids that make up the walls of the Luxor. Don't forget France and stop by Paris Las Vegas, a beautiful hotel that reminisces on the Eiffel Tower of Paris.
After traveling all over the strip make sure to stop and enjoy the great food options available.
Take yourself on a culinary adventure of a lifetime, here are some spots you may want to check out:
Hit the Bar…no, not that bar, the Burger Bar!!  After you're done there, you will never go back to a fast food restaurant for a burger, ever again! From buffalo and Kobe beef burgers to atlantic salmon, there is something that everyone can enjoy here.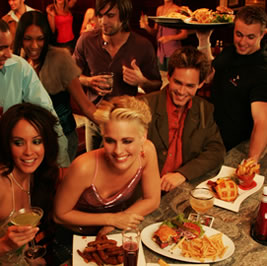 Are you a fan of Hell's Kitchen? Some of the show winners have opened restaurants here. The Ramsay group owned by world renown british chef Gordon Ramsay, has restaurants in the Ceasars Palace and at Paris Las vegas.
Mesa Grill by Bobbie Flay will not disappoint; with a menu that varies in prices from $30-$50 for a main course, is an inexpensive menu that will leave your taste buds wanting more.
Going out and enjoying our event host city is one of the best ways to take what you've learned and put it into practice. During our convention in St. Louis many Distributors went out and started sampling products and promoting the OG opportunity whenever possible. With so many tourist in Vegas during February, you'll have the chance to do the same and hopefully meet some new prospects and make connections that will help you grow your organization. To get tickets to #OGP50K please visit http://project50thousand.com/