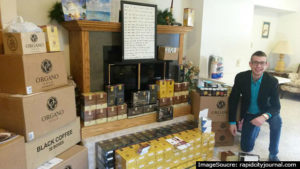 At Organo Gold, it's common to see people striving for success, and seeing their wildest dreams come true. After all, who these days is not looking to escape the rat race,' increase their earnings while decreasing their stress levels, doing the things they love and spending time with their loves ones.
So we are very pleased to share the incredibly inspiring story of young Distributor Tyler Yule. "I was weak and lazy in high school," said the now driven and determined young man. "My parents did too much for me." Armed with such impressive self-awareness, a young Tyler decided to change his attitude, and very soon his ambition began to grow and show results. In November 2012, Tyler got himself a job at the local Olive Garden restaurant. He also worked overnights stocking shelves at his local Wal-Mart store, and also worked as a server at an eatery called Captain Freddy's. In May 2014, Tyler was working at Piogue Grille, which remains to this day one of his favorite places to eat. In December 2014, he moved to a position he now holds as a server at Red Lobster.
While working at Red Lobster is something this young man truly enjoys, what he has done throughout his short but successful restaurant industry career is combine his love of the hospitality industry with something else — coffee. Specifically, Organo Gold coffee. When he is not at work for a large multi-national restaurant chain, Tyler is still working hard — handing out OG product samples and making phone calls to potential customers. He said that he considers himself lucky and blessed that the Red Lobster where he works is very supportive of his other endeavors.
"I'm happy. I have a fun life," Yule has said. "I have a Corvette and lots of nice clothes and friends and love to eat out." Of course, we all know that fancy cars and nice clothes are not the key to happiness. And this young man certainly is aware of that. Which is why he has set goals for himself and works hard to be positive, in his own life and toward others. He said he is very disciplined and self-motivated. "I spend about 30 minutes a day tracking all my expenses," said Yule. "I am putting money in savings and I am able to enjoy what I do in my free time."
The main goal in his life right now is the coffee business, Organo Gold. He hopes to be able to someday do nothing but work his OG business. And it certainly does have its perks. He is heading to Florida in November for a cruise, which is just one of the incentives. "It's my new business venture," said Yule of his OG Distributorship. "Thus far it's been awesome. I have an amazing group of people that help and support me. The company, Organo Gold, is great to work for. It's by far the best job and many times it doesn't feel like it's a job. It's so much fun."
Learn more about Tyler's experiences with Organo Gold here.