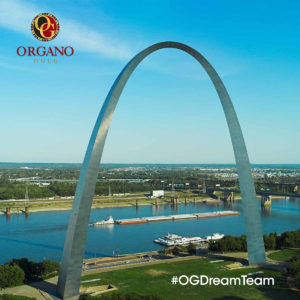 We've seen a lot of one of our favorite OG faces this past week, as Global Master Distributor Shane Morand has been joining us live from St. Louis via YouTube clips, counting down the days and witnessing the excitement build for the big annual global convention OG One Team, One Dream 2014.
Shane has also been offering some helpful tips and strategies, and pointing out how this convention —whether you are attending in person or watching the 'One Team Live Stream'pay-per-view footage—can help you double or even triple your OG business.
Business like OG stage conventions for several reasons. One is for the members of the OG Family from all corners of the globe can meet and swap stories, and enjoy the latest training innovations and big announcements from the leadership team. The other reason is that conventions like this are incredibly successful at helping Distributors build their businesses.
And the tip of the day Shane shares in the Day 2 of the convention countdown is a fun one indeed —literally. "You gotta have fun!"says Shane. As he points out in this three-minute clip, working hard doesn't mean that you can't enjoy some fun in the process. So that's everyone's homework: go out and have some fun, do something fun, and always make your OG events fun. It demonstrates to others that success and fun go hand-in-hand —and that fun is a big part of the OG lifestyle.
Part of that fun could be inviting friends over to enjoy some OG coffee and watch all of the convention action live from St. Louis! So grab your ticket now for just $249 and you'll have access to two days of convention footage this Saturday October 4 and Sunday October 5. So put on your seatbelts, go online and purchase your ticket today to view the convention live via pay-per-view, and be a part of Organo Gold history.