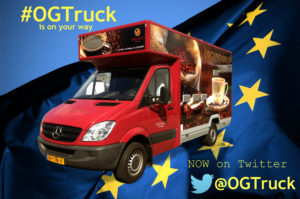 During the past year, many Distributors asked us how to be more successful in their local events and expand their OG business beyond the borders of their country around Europe. During the #DreamTeamEU European Convention in April, their questions were answered: Our OG Executives launched the brand new OGTRUCK as the ultimate opportunity to drive your sales directly to your doorstep!
As announced during the event, in early May 2015 and concurrently with the beginning of the European OGTruck Tour, our Social Media gurus opened a new dedicated Twitter account @OGTruck https://twitter.com/OGTruck so you can get all latest news and follow this special truck both live and online!
Among all of the Social media channels, Twitter is certainly the most challenging one. It requires you to push your creativity over the limits and express yourself in less than 140 characters!
However do not underestimate a tiny #hashtag. It's, a funny sales-driver, a useful business tool and a powerful medium that's able to create awareness around a specific topic, product, or event in a matter of seconds.
Would you like to know now how to drive sales, increase your leads, and host a successful CJM full of new prospects?
If you have a Twitter account and you want to improve your OG activity, then the @OGTruck account https://twitter.com/OGTruck is the must-follow Twitter handle of the upcoming summer.
Tweet your message, tag your friends and invite your prospects.
Adding the right #hashtags to it (like #OrganoGold #OGcoffee #OGTruck and #GlobalCJM ) will connect you with thousands of potential customers around the globe who are interested in the same subject and not only! Be focused and consistent in your goals: Simply add #hastags to your pictures and retweet all communications spread by OG official channels, such as @OrganoGoldEU. https://twitter.com/OrganoGoldEU
Over the next weeks, you will have the pleasure of taking part in any one of the many local events that are being organized by European Top Leaders and Organo Gold management. The only way to attend is to stay connected with us!
Expand your #OGcoffee business beyond your neighborhood and make sure that if you throw your business in the water, you catch it with the inter-net!
"Bringing the treasures of the Earth to the people of the world…on four wheels"
@OGTruck on Twitter – the only way to know where it will go next!