Our upcoming Global CJM day happens to coincide with "The Fight of the century –  'OG Champion' Manny Pacquiao vs Floyd Mayweather. The fight is expected to break every record from attendance to PPV purchases. To help our Distributors bring their CJMs to the next level, we have prepared a series of blog posts that are full of tips and information to help make your #GlobalCJM on May 2nd a success.
Coffee Jazz Mixers or CJM for short, are part of the OG system to help Distributors increase product sales and grow their organization. Today, we'll show you how to enhance your CJMs by using our diverse and versatile line up of OG branded products that are available on our OG Business Tools website –The official source for OG branded items.
Here is a list of OG Business Tools that will take your CJM to a new level of professional standard.
Start with the right setting and proper tools:
The quick and easy way to show off the benefits of BrewKups to your customers. They are sold in Packs of 20 and come in English / Spanish and English / French versions. These awesome 4-Fold, BrewKup Product brochures in full color imprint features the latest Organo Gold BrewKup flavors.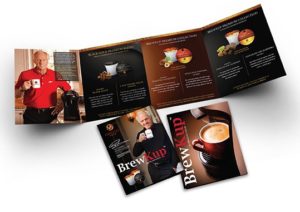 We've given our brochures a new look and provided additional information that will help Distributors better represent their OG Business. All of the latest compensation plan updates have been incorporated so that you'll have all the essentials with you.
Suggested use: Lay them both either on a table or by your BrewKup machine.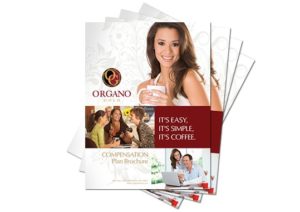 The kit contains 25 newly designed small coffee bags and 25 Coffee Connoisseur Club brochures packed in one elegant bag with gold stamping for Distributors who want to make a lasting impression on consumers. Add samples to the bag and note your contact information on the back for a sophisticated new way to promote your OG Business. Additionally, the brochure outlines all the benefits of the Coffee Connoisseur Club including special product pricing, the 'Sip Sample Share' referral program, and auto monthly delivery rewards! Each Coffee Connoisseur Club brochure comes in three languages — English, Spanish and French
* Note: Kit contains 25 small bags and 25 brochures. No coffee samples included.
Always dress for success!
Why not try the OG Women's CORVUS Tech Polo Shirt? Because you can't host a CJM without sporting some official OG gear!
This sleek looking self-fabric collared shirt features a front placket with no-button closure along with a V-notch side slit detail and shape-seams that offers a more flattering fit. The Organo Gold logo is laser engraved on left side of the shirt.
 
Manny Pacquiao PPV
Don't miss this great opportunity to have a great time with friends, while serving great coffee and talking business. This fight is expected to break records and it will be talked about for years to come.
Having Manny Pacquiao in our corner is one of the best things that you can leverage as an OG Distributor and a great talking point during our Global CJM. Be sure to check out the OG champion page we've created on the corporate site. This, combined with the business tools items, is a great recipe for a successful Coffee Jazz Mixer.
Don't forget to use the hashtag #GlobalCJM on social media and stay connected with Distributors from around the globe.