OG's Top Five 2014 moments continues as the Company with an incredible honor:
#4: Organo Gold Received the Napoleon Hill Foundation's Coveted Gold Medal Award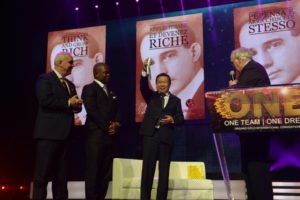 Organo Gold has always been proud of its long-standing partnership with the Napoleon Hill Foundation, so it was with incredible pride that OG's executive team accepted the foundation's coveted Gold Medal Award in October at the St. Louis International Convention.
The award was presented to Bernardo Chua, Founder and Chief Executive Officer, Shane Morand, Co-Founder and Global Master Distributor, and Holton Buggs, Executive Vice President of International Sales, by Don Green, Executive Director of the Napoleon Hill Foundation.
One of the highlights of the award presentation ceremony was a talk by none other than Napoleon Hill's grandson, Dr. J.B. Hill, who said: "Organo Gold has continually demonstrated Napoleon Hill principles. Bernie, Shane and Holton have continued to instill that vision with the integrity that would have made my grandfather proud." Take a trip down memory lane with us and watch the presentation here.