In 2014, Organo Gold took the natural step of entering the global brewed coffee market – first
with BrewKups™ in North America and then with OG Espresso in Europe. Both products are favorites of OG's global brand Ambassador, Greg Norman.
#2: Entering the Brewed Coffee Market
The launch into the booming brewed coffee market was a huge achievement for Organo Gold in 2014. This exciting new step took place as part of the company's partnership with Greg Norman.
The first step into this rapidly growing market happened with the launch of OG BrewKups in July of 2014. "Entering into the brewed coffee category is a natural step in Organo Gold's evolution," said CEO and Founder Bernardo Chua at the time. "As we continue to expand our global footprint and extend our brand reach, it's critical that our Distributors and customers have product options that are in keeping with OG's lifestyle commitment." The BrewKups, which were designed to fit most single-serve brewing systems, were launched in Gourmet Black Gold BrewKups as well as the BrewKups Premium Collection which featured the enticing gourmet flavors of Chocolate Almond and Toasted Hazelnut.
The excitement continued brewing in November with the launch of OG Espresso in Europe, a single-serve coffee capsule designed for use in most European single-serve espresso makers. The espresso capsules were launched in a special collection known as Trilogy, which featured the smooth and serene Uno; the classic and enlightening Due; and the strong and intense Tre. "When looking at European coffee consumption, we knew we had to bring an espresso to the market that didn't just meet, but actually exceeded Europeans' high standards," said Holton Buggs at the time of the launch. "Nothing goes together as perfectly as Europe and espresso. I love a bold and strong shot of coffee, and that's what I'm getting with OG Espresso," added Greg Norman, the man who was the face of the product.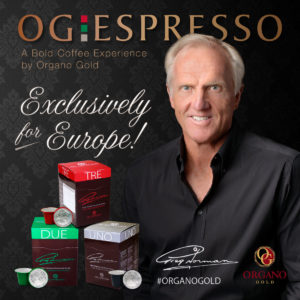 Clearly this is just the beginning for Organo Gold's presence of the burgeoning brewed coffee market, and we look forward to future products.