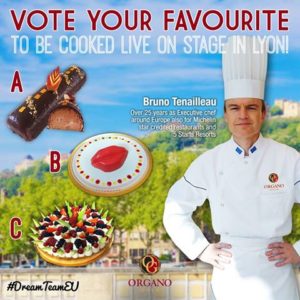 Or actually, he bakes the cake. Of course, what this chef does goes well beyond baking and deep into the esteemed culinary arts.
Renowned French chef Bruno Tenailleau is blessing OG with his culinary skills at this year's EU Convention. This makes sense, as the 2015 EU convention will tale place in the culinary paradise that is the city of Lyon. So to celebrate, we're having a competition of sorts. Chef Tenailleau was kind enough to create three delectable cake recipes, each one using a different Organo Gold product. The three gorgeous-looking gateaux are sure to taste as beautiful as they look.
What is even more exciting is that convention attendees will be able to witness Chef Tenailleau mastery in action — as he will prepare all three cakes live on camera from a specially-designed kitchen on site at the convention venue in Lyon. But perhaps the MOST exciting thing is the OG contest that is happening as part of this event.
OG participants will get the chance to choose their favorite amongst the three cake recipes created by Chef Tenailleau, then vote in a poll that will run from April 7 through 12. Then, during the convention April 17-19, Chef Tenailleau will whip up the cakes in a special kitchen in front of live cameras. Then, all of the votes will be put in a barrel, and one lucky the voting contest participant will have their entry drawn from the barrel live on stage. The lucky winner will receive and OG branded apron and chef's hate — and most likely some culinary tips on creating such gorgeous cakes from the Michelin-level Chef Tenailleau. Chef Tenailleau has worked as an Executive Chef across Europe for over 25 years, honing his expertise in the kitchens of Michelin-awarded restaurants and five-star resorts.
To cast votes in the competition, participants need to follow OG Europe's Facebook page, and be sure to use the hashtag #DreamTeamEU and #OGContest. Simple post a preference for A, B, or C in the comments section of the Facebook post about the three cakes, and you'll automatically be in the running to win that OG apron and chef's hat. If the winning voter is present at the OG Europe Convention in Lyon April 17-19, they'll have the thrill of collecting their prize live on stage at the event.
For more details on this exciting European convention, head to the website here — it's a not-to-be-missed event in a stunning and historic French city. Will you be there? And will you take the cake?