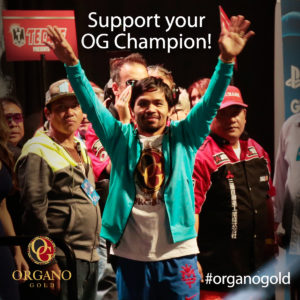 Two of the biggest names in boxing will soon hit the ring in what has been dubbed "The Fight of the Decade" by the boxing world and the media alike. Of course, here at Organo Gold, our loyalties lie with the one and only Manny Pacquiao, world-renowned Philippine-born boxing champion and OG Distributor.
As is usual with such high profile boxing matches, the speculation and intimidation has already begun. According to an article last month on The Huffington Post, we should "expect plenty of trash talk until the May 2 fight between Manny Pacquiao and Floyd Mayweather Jr.."
Naturally this big time fight on May 2 provides all OG Distributors with an incredible and dynamic opportunity to introduce Organo Gold products that pack a Ganoderma punch! Here are some fun facts about our favorite boxing star, Manny Pacquiao, and his May 2 opponent Floyd Mayweather Junior:
• In the recent March 11 press conference promoting the big fight Manny got into the boxing spirit and goaded his future opponent by suggesting he could face another opponent — women's MMA fighter Ronda Rousey. "She's strong enough to beat Floyd Mayweather in MMA," said Manny when asked if he thought Rousey could take on Mayweather.
• "We're, both of us — we're going to undergo a hard training. And we – we will do our best and on May 2 – to make you happy," Manny also said at the press conference.
• Pacquiao's opponent also had some strong words at the press event. "I never wanted to win a fight so bad in my life. And I'm pretty sure he's going to push himself to the limit because he just — he wants to win just the same way I want to win."
• "We are in the toughest fight of our life," said Manny's trainer Freddie Roach. "We're fighting the best fighter in the world."
Stay tuned to OG blog to hear more news as the big Fight of the Decade date comes closer and closer — and start planning your OG mixer around this not-to-be-missed sporting event of the decade.