Our RightNow Magazines are the number one resource we have to find out what's happening in OG. Three times a year we release a new RightNow Magazine to keep our OG Family up to date on all of the most important news and information from that quarter.  By looking back at vintage issues, we can get comprehensive snapshot of which major events transpired during each year of our existence.
To view every RightNow Magazine in our company's history, download the Organo Gold Publications App from the iTunes Store or Google Play Store.
2013 was the year OG celebrated its 5-year anniversary, meaning it was 365 days of nonstop celebration for our entire OG Family.
Let's take a look back at 2013, strictly through the lens of our RightNow Magazines from that year, and see firsthand how OG celebrated its Silver Anniversary.
Q1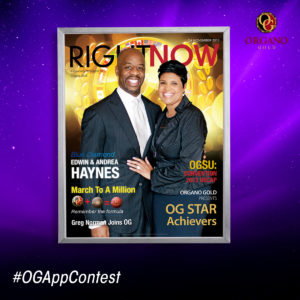 Major news: P50K: Passport to Freedom; Shane Morand International Tour; Three City VIP Super Saturday Event Announced
P50K: Passport to Freedom will be remembered for many things, but it's what happened outside the venue, before the event even started, that still has people talking to this day. A VIP parking lot was set up right outside the Toyota Center where all of our Diamonds rolled up and parked their brand new OG Benz rides for the whole world to see. But, not to be outdone, The Three Amigos touched down in Houston via helicopter and in the process set the tone for an unforgettable weekend of training, celebration, and style.
Also in Q1, Shane Morand embarked on an international tour that took him to 3 countries and 7 cities across Europe and three host cities – Anaheim, New York, and Atlanta – were all announced as hosts for 2013's trifecta of VIP Super Saturday Events.
Q4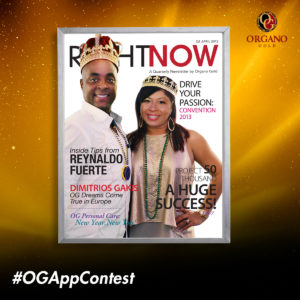 Major news: Stand United Convention; Greg Norman introduced; Star Achiever Program launched; OG goes retail with the C3
When looking back at the Stand United International Convention, it's hard to pinpoint just one moment that stands out from the rest. Between filling up two arenas, the introduction of our Global Brand Ambassador Greg Norman, and the launch of OG's first ever consumer retail site, the Coffee Connoisseur Club, this event was packed full of so many announcements, we almost couldn't fit them into just one weekend!
In terms of recognition programs, late 2013 marked the kickoff of the Star Achiever Program, which still remains one of the most prestigious recognition programs in all of Organo Gold. As of July 2015, we have hundreds of Distributors who are consistently qualifying as Superstar Achievers each and every month!