Our RightNow Magazines are the number one resource we have to find out what's happening in OG. Three times a year we release a new RightNow Magazine to keep our OG Family up to date on all of the most important news and information from that quarter.  By looking back at vintage issues, we can get comprehensive snapshot of which major events transpired during each year of our existence.
To view every RightNow Magazine in our company's history, download the Organo Gold Publications App from the iTunes Store or Google Play Store.
2012 was a long time ago. We were only four years old as a company and still very much in the process of taking over the Network Marketing industry. 2012 brought with it some major announcements, events, and products that changed the course of our future and helped usher in 'Wave 2' of our growth.
Let's take a look back at 2012, strictly through the lens of our RightNow Magazines from that year, and reminisce about one of the most exciting years in our company's history.
Q1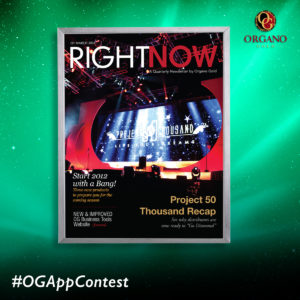 Major news: P50K: Live Your Dreams; three new products; Jose Ardon reaches Crown Ambassador; John and Blanca Sachtouras go Crown Diamond
2012 started off with a bang as 12,000 Distributors flew into Las Vegas for P50K: Live Your Dreams. It was at this event where the OG Benz Club was first introduced and three new products – Red Tea, Black Ice, and Velvet Body Lotion – were unveiled. Red Tea and Black Ice remain two of OG's most popular products to this day.
Lastly, Organo Gold's top 2 Distributors – Jose Ardon and John Sachtouras – took major steps towards cementing their OG Legacy. Jose became the company's first ever Crown Ambassador and John and Blanca Sachtouras reached Crown Diamond.
Q2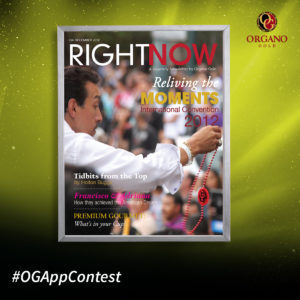 Major news: Nevada warehouse opens; New Orleans Convention preview; David Imonitie gets crowned
The last publication before the 2012 OG Cares International Convention, the global OG Family was getting ready to head down to New Orleans and provide aid to a city that was ravaged by Hurricane Katrina.
Additionally, OG opened the Nevada warehouse that services 95% of the United States. The warehouse provided 26 full time jobs to a city in need and spans over 53,000 sq. ft.!
Lastly, David Imonitie joined Jose Ardon and John Sachtouras as the third OG Distributor to earn the OG Crown.
Q4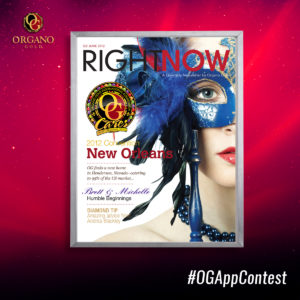 Major news: Convention recap; eight new country openings; Luis Ventura joins elite company
Never again will there be a Convention that matches the ambiance, feel, and uniqueness of the OG Cares Convention in New Orleans. Led by a high school marching band, our Diamonds piled into floats and tossed beads into the crowd all the way through Champions Square in Downtown New Orleans. A Masquerade Ball and a surprise performance by Grammy Award winning group, Boyz II Men, capped off an unforgettable weekend in The Big Easy.
Eight new countries joined OG in the back half of 2012, including all three FSU countries. Lastly, Luis Ventura joined elite company, as he became the 4th Crown Diamond in OG history.
To view every RightNow Magazine in our company's history, download the Organo Gold Publications App from the iTunes Store or Google Play Store.