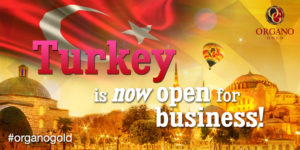 Organo Gold opened its operations in Turkey earlier this year in March, an announcement that was thrilling news to all in the OG family. Turkey is of course renowned for its strong relationship with coffee, as it there that the world's first coffee house opened in the 15th century. Organo Gold Founder and Chief Executive Officer Bernardo Chua remarked at the time that the launch in Turkey was a "significant operational achievement for Organo Gold" — one that "unites the Company's Asian, European and African operations and allows us to better serve our Distributors and Customers across this diverse and dynamic region."
OG Co-Founder and Global Master Distributor Shane Morand added that "Turkey's geographical importance, booming economy and young demographic complements Organo Gold's mission, product lines and opportunity," while Holton Buggs, OG's Executive Vice President of International Sales and Marketing, noted the growing interest in health products amongst Turkey's younger community. "Turkey's increased interest in an active lifestyle and growing nutraceutical market has expanded the awareness of and demand for Organo Gold products."
Today we thought we'd get to know this country a little better. From its beautiful beaches to the bustling markets of Instanbul, to the wealthy of interesting history, there is a lot more to Turkey than meets the eye. Here are some fascinating facts about one of the latest countries to join the OG family:
•    Istanbul's renowned Grand Bazaar has 64 streets, 4,000 shops and is home to 25,000 workers.
•    Turkey's Istanbul Tünel is the world's second oldest underground railway system — it began operation in 1875.
•    Istanbul is the world's only city that spans two continents (Europe and Asia) and only 3% of Turkey is actually in Europe.
•    The famous Trojan Wars took place in Western Turkey, around the site where the Trojan horse rests today.
•    The oldest known human settlement is in Catalhoyuk, Turkey, and is thought to have been established in the 7th Millennium B.C.
•    Everyone thinks of tulips as being distinctively Dutch, but tulips were actually introduced to the rest of Europe by Turkish traders in the 16th century.
•    Turkey's Black Sea coastline stretches for a vast 1650 kilometers — the same distance from Paris to Berlin.
Turkey is a country with so much history, and such a bright future, we look forward to getting to know the people of this country and its incredible culture, and welcoming Turkey into the OG Family.