Yesterday you learn 12 interesting facts about our OG Champion, today its the big fight and we want to give him all the support from his OG Family.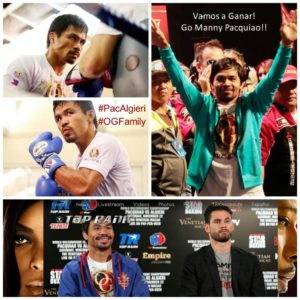 13) For his first ever fight, Pacquiao earned a grand total of $1. 23 years later, Pacquiao now pulls in over $10 Million per bout.
14) Growing up, Pacquiao idolized renowned martial artist, Bruce Lee
15) In addition to boxing and politics, Pacquiao is also a recording music artist in the Philippines. 'Imagine' That!
16) Pacquiao founded the Manny Pacquiao Fund to aid people who suffer from abject poverty and sickness.
17) When he first decided he wanted to become a boxer, Pacquiao made his first punching bag out of a cardboard box stuffed with clothes
18) Pacquiao was listed on Time Magazine's Top 100 most influential people list. According to voting Pacquiao was ranked 22nd – ahead of Barack Obama and the Dalai Lama
19)He was long rated as the best pound-for-pound boxer in the world by some sporting news and boxing websites, including ESPN, Sports Illustrated, Sporting Life, and Yahoo! Sports.
20)Pacquiao left home at age 14 because his mother, who had six children, was not making enough money to support the family.
21)In 1995, the death of a young aspiring boxer and close friend of Manny's, Eugene Barutag, is said to have spurred the young Pacquiao to pursue a professional boxing career.
22)Pacquiao reportedly had an amateur record of 64 fights (60–4).
23)Pacquiao started his professional boxing career when he was just 16 years old, and he stood at 4'11" and weighed just 98 pounds, which was 7 pounds under the minimum weight division requirements.
24)He has admitted to the American media that back then, when he was just 98 pounds, he put weights in his pockets to make the 105-pound weight limit.
25)In 2012, American actor and filmmaker Sylvester Stallone — who of course is renowned for his role as a professional boxer in the Rocky movies — was reportedly in talks with Pacquiao about co-starring in one of Stallone's future films, but the project has not yet gone foward.
Be sure to show your support for our OG Champion tonight on twitter @MannyPacquiao or watching his fight on Pay per view.
Go, Manny OG Family is with you!