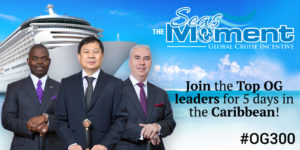 For the very first time in OG history, Organo Gold is offering Distributors in many countries a global incentive like no other — five days and four nights of OG-fun and inspiration aboard a luxurious cruise liner.
Travel across the seas to the Western Caribbean — a location renowned for its azure waters, glistening white sand beaches, exotic fresh tropical cuisine, and much more. We'll accept only the best for our OG Distributors, which is why we have secured one of Royal Caribbean Cruise Lines' most beautiful ocean liners, a cruise ship named Navigator of the Seas.
Think of all the fun, food, entertainment and excitement of a Caribbean luxury cruise, then add to that the exclusive training and special activities you'll enjoy with your favorite OG leaders throughout the cruise. The OG cruise on the Navigator of the Seas will depart on November 10, 2015 — from fabulous Fort Lauderdale.
Qualification for the cruise opened on February first, and continue through until the end of July, 2015. So you have almost two more months to continue accumulating points towards this amazing adventure. Distributors can acquire points through various activities, including Distribution of Bronze, Silver and Gold Builder Packs.
To find out more about how YOU can qualify, take a look at this helpful YouTube video which explains how qualification points are accrued through personally sponsored Distributors, product sales, the sponsorship activities of your fellow team members, and more.
Be a part of OG history — this inaugural cruise is sure to be a memorable event. Seas the moment now and ensure you are on that cruise.
We'll see you in Fort Lauderdale.