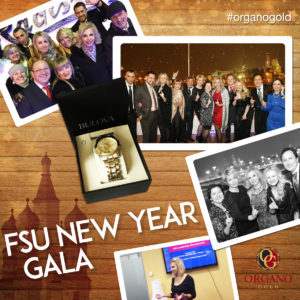 Organo Gold CIS (Russia, Ukraine, Kazakhstan) began 2015 in style, with a two-day OG training and recognition event that was capped off with a New Year gala dinner. The dinner was held on a boat that meandered down along the Moscow River, giving attendees a striking view of the city skyline.
The Event was organised for the Leaders who achieved the Sapphire and above Rank, starting from October until January. Among the qualified Leaders were: Diamond Varlam Grigoryan (Ukraine), Emerald Makhmud Akhmedov (Russia), Emerald Armen Gabrielyan (Ukraine), Ruby Irina Boiarkina (Russia), Ruby Elena Khartl (Ukraine), Sapphire Katerina Zykova (Russia), Sapphire Yerkinbek Akhmetsadyk (Kazakhstan)
Attendees of the New Year gala dinner had more than just the stunning views to make it a memorable night — the evening was awash with announcements.
First, the fact that Holton Buggs will be arriving in Moscow on April 22-23 got the crowd beyond excited. Then, news of the Organo Gold 2015 European convention in Lyon increased the energy of the OG Distributors and guests in attendance. As a cherry on the top for the network was the news that the regular corporate webinars will be held starting from January 28th mentored by Global Master Distributor Mr.Shane Morand.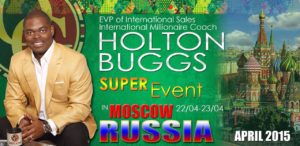 There was also a lot of well-deserved recognition handed out throughout the evening — demonstrating the leaps and bounds the Distributors of Organo Gold CIS has made since it launched in this vibrant country just a few short years ago. First three 12 Star Achievers received their well-deserved Bulova watches: Elena Khartl (Ukraine), Irina Boiarkina (Russia) and Ekaterina Zykova (Russia). Elena Khartl of the Ukraine was the lucky recipient of the exclusive present from the Vice President of Europe Sales and Marketing Carmen Pratt,the Napoleon Hill book Think and Grow Rich.
The entire event in Moscow was a huge success, with OG leaders showing what "One Team One Dream" truly means. We look forward to seeing what Organo Gold CIS does next, and are enthused about their potential success and progress in 2015.