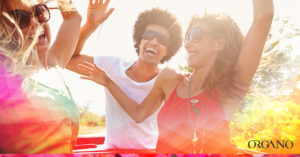 Each year, National Hispanic Heritage Month, from September 15th to October 15th, celebrates the histories, cultures, contributions and heritage of American citizens whose ancestors have roots in Europe, Spain, Mexico, the Caribbean and Central and South America.  Hispanic people were among the earliest European settlers in the New World, what is today the United States.  Join ORGANO™ today in paying tribute to the generations of Hispanic Americans who have positively influenced and enriched, not only a nation and society, but across the globe!
Hispanic Heritage History
Hispanic Heritage Month actually began as" National Hispanic Heritage Week" to honor the independence of Hispanic countries from September 15th-18th.  The original observation started in 1968 (under President Lyndon Johnson), and in 1974, President Gerald R. Ford proclaimed the week beginning September 10th-16th as National Hispanic Heritage Week.  In 1988 President Ronald Reagan expanded the tribute to cover a 30-day period starting on September 15th and ending on October 15th. It was enacted into law on August 17, 1988.
September 15th was chosen as the starting point for the celebration because it is the anniversary of independence of five Latin American countries:  Costa Rica, El Salvador, Guatemala, Honduras, and Nicaragua.  All declared independence in 1821. In addition, Mexico, Chile and Belize celebrate their independence days on September 16, September 18, and September 21, respectively.
Honoring 'The Day of the Race'
The celebration extended into October to mark "El Dia de la Raza," or "The Day of the Race" on October 12th. "El Dia de la Raza" is observed throughout most of Mexico and Latin America. The day celebrates the many nationalities (people having a common beginning, tradition, or language) that are present in the history of Mexico, Central America, and South America. These nationalities include Native Americans such as the Mayas, Aztecs and Incas; and European nationalities such as Spanish, Portuguese, and French.
Famous Hispanic Americans
From sports to government to entertainment and science, Hispanic Americans have played important roles in America's history, its values, and culture. They include Supreme Court Justice Sonia Sotomayor, baseball star Alex Rodriguez, actor George Lopez,  singer/actress Jennifer Lopez, journalist Geraldo Rivera, actresses America Ferrera and Selena Gomez (to mention just a few).
Hispanic Heritage Month Quiz
Who is the first Hispanic to have served in the U.S. Congress?
 Joseph Marion Hernandez was a delegate from the Spanish territory of Florida. He served in Congress just over five months, from September 1822 to March 1823.
Who is the first Hispanic to have won the Pulitzer Prize?
Oscar Hijuelos earned a Pulitzer for The Mambo Kings Play Songs of Love (1989), the story of Cuban musicians in New York in the early 1950s, when Latin music first swept the United States.
Who is credited with improving visibility worldwide and greatly increasing the stock price of what major U.S. company?
Roberto C. Goizueta was the chairman of Coca-Cola for 16 years. During his tenure, stock prices increased over 7,000%.
What singer helped popularize folk music and has spent a lifetime promoting nonviolence and humanitarian causes?
Joan Baez started The Institute for the Study of Nonviolence in t he 1960's, which is now called the Resource Center for Nonviolence.
Who won a Nobel Peace Prize in Physics?
Luis Walter Alvarez was awarded the Nobel Prize in Physics for his work on a radio distance and direction indicator in 1968.
Who is the first Hispanic woman to become an astronaut?
 Ellen Ochoa became an astronaut for NASA in 1990.
What journalist received the Robert F. Kennedy award for her story, Manhood Behind Bars, which ran on National Public Radio?
Maria Hinojosa is a CNN correspondent and hosts NPR's Latino USA.
What musician/composer/actor ran for president in his native country?
 In 1994, Ruben Blades ran an unsuccessful campaign for the presidency of Panama.
Who is the first Hispanic player voted into Baseball's Hall of Fame?
 Roberto Clemente is often considered baseball's greatest right fielder and is beloved for the humanitarian work he pursued in his lifetime.
What nine-fingered guitarist has a devoted fan base and was honored with an eponymous Ben and Jerry's ice cream flavor?
Jerry Garcia, who's band, The Grateful Dead, epitomized the San Francisco  sound of the 1960s.
Everyone Can Celebrate
Hispanic Heritage Month is celebrated with community festivals, government gatherings, and educational activities. Many schools celebrate the month by learning about contributions of Hispanic Americans both past and present. At ORGANO™ we celebrate Hispanic Americans and their cultural influence across the globe and their contribution to the OG Family.