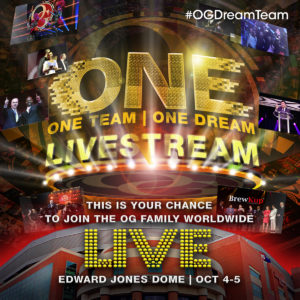 We've been counting down the days and the excitement has been building for the Organo Gold's global convention — OG One Team, One Dream 2014.
Tickets for access to the 'One Team Live Stream' pay-per-view footage have likely sold out by now due to the unprecedented demand and the limited capacity for any live stream broadcasting event.
If you were lucky enough to get yourself a ticket — share it with as many people as you can, to help you double or even triple your OG business. Or, if access has reached capacity and you get a Sold Out message, do as our Co-Founder and Global Master Distributor Shane Morand recommends in this final YouTube convention countdown clip — and find out if any Distributors in your area have access to the live convention footage. You can bet they'll be inviting fellow Distributors and other interested folks around for OG coffee and a convention viewing party!
St. Louis is not going to know what hit it when it sees the OG enthusiasm and hears all about Organo Gold's life-changing products, generous compensation plan and quality leadership and training — so be sure you are watching OG history unfold, whether you see it live in the stadium in St. Louis or from home via the wonders of pay-per-view live streaming.
There are some incredible, history-making announcements planned for the Oct 4-5 convention — so it is an event not-to-be-missed!
Don't forget to share news of the thrilling OG One Team, One Dream Convention on social media — use the hastag #OGDreamTeam on your Facebook, Twitter and Instagram accounts, and help spread the word about this amazing business and event!
We'll see you in St. Louis or live via the pay-per-view broadcast.