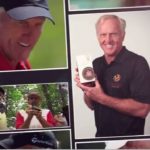 Golfing legend Greg Norman, Organo Gold's Global Brand Ambassador, is also an Organo Gold Distributor. For such an established, high-profile sporting superstar to join the company is a huge affirmation for the brand.
Norman cites the simplicity of the products and the business model as one of the main reasons he wanted to get involved with Organo Gold. He says the pure simplicity of it all was one of the most appealing factors. "Other network marketing companies may have the ingredients," says Norman. "Some of the ingredients are very hard to explain. It's very hard to articulate to the consumer what that ingredient is all about, and what that ingredient can do for you on a daily basis. You can get lost in all that scientific terminology."
Not so with coffee, and Organo Gold products, which are simple, easy to explain, and contain the true ingredients for success and wellbeing.