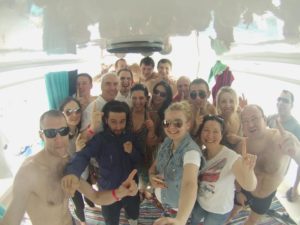 Organo Gold CIS Distributors recently had the pleasure of enjoying an incentive trip to historic Egypt. Staying at the scenic Sharm-el-Sheikh resort, the six day trip allowed all qualifying attendees to get up close and personal with OG's very own Co-Founder and Global Master Distributor, the one-and-only Shane Morand.
Shane was in fine form, motivating and entertaining the Distributors in attendance, who fully grasped the opportunity to learn from Shane's experience in an exclusive training program that lasted for two of the trip's six days. The thrilling news that Organo Gold's special edition of Napoleon Hill's best-selling book Think and Grow Rich was now available in Russian was also a highlight of the event.
Other highlights included the OG Dream Team of Shane Morand, Executive Vice President of International Sales Holton Buggs, and Founder and Chief Executive Officer Bernardo Chua snorkeling in the Red Sea, as well as a memorable Gala Dinner that was held in an open air restaurant on the shores of the ocean. Dinner guests were entertained with a mesmerizing performance by traditional Egyptian dancers. Shane Morand offered recognition to the latest additions to the rank of Sapphire Distributor in February — Alexandr Kostenko, Katalin Botnarenco, Carmela Amitrano, Aliona Stadnik, Emilia Kutsepal and Andrey Klubov.
In addition to the qualifying OG Distributors, the event in beautiful Egypt was also attended by many members of the OG worldwide corporate team, including: Paul Jarvis, Regional Vice President of OG Europe, CIS and Africa; Andrey Verkhunov, General Manager, CIS; Julia Skorokhod, General Manager of OG Ukraine; Diana Petrova, Sales and Marketing Manager of CIS; and Kateryna Rozlach, Manager of OG Ukraine Customer Service.
All who attended, Distributors and corporate staff alike, were truly enthused, energized and educated by this incredible trip of a lifetime.
Thank you to all those to attended and helped to make this trip to Egypt one of the more memorable events in OG history!
See the full album here: http://ow.ly/Mct3V