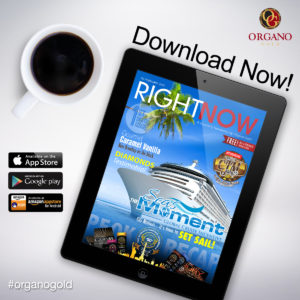 Since its launch in late February, the Organo Gold Publications App has been the easiest, quickest, and most popular way for our global OG Family to keep up to date with all of the latest OG News.
If you don't have the app, then we apologize that you've gone this long without experiencing the latest step in Organo Gold's digital expansion. If you do have the app, then you're well aware of what the rest of the OG Family is missing out on.
Today, we're going to give you a rundown of everything you've missed and need to see on the Organo Gold Publications App and tell you about how you can download it to your computer, smartphone, and tablet.
What You Have Missed
RightNow Magazine
The app launched in February with the first ever release of the digital RightNow Magazine. Available in 3 languages, this magazine is released on a quarterly basis and features up to date recognition, updates on our latest incentives, and interviews with OG's Elite.
OG Experience Newsletter
Released on a monthly basis, the OG EX Newsletter is your one stop shop for what's
happening in Organo Gold. Updates for the LA Convention, info about Seas The Moment, and Global CJM photo spreads are just some of the relevant information you'll get from the OG EX Newsletter.
Both the March and April editions are live on the app.
Push Notifications
Wondering when the next Global CJM Day is? Or how about up to the minute updates about the latest Convention ticket deals? Or what about getting notifications about groundbreaking announcements, as they're being announced, at major OG Events?
The only way to stay in the know is through the push notifications that we send out through the app. Always be the first person in your team to 'be in the know' with the latest OG News by taking advantage of our exclusive push notifications.
What's Coming Up?
Leading up to Convention, we will be launching 3 more OG EX Newsletters, the Q2 edition of the RightNow Magazine, and exclusive interviews that you won't be able to find anywhere else.
What else do we have planned, you ask? Possible ticket deals for the LA Convention?
A catalogue of all of our older publications? Teasers for the GOLD Magazine?
We can't give away all of our secrets, but the only way to be in the know is to download the app. It's that simple!
Download Now For Free!
The app can be downloaded from any of the following app stores:
The app will work on your computer, smartphone and tablet.
To watch a video of how to download the app, click here and here.
We look forward to seeing you on the app!