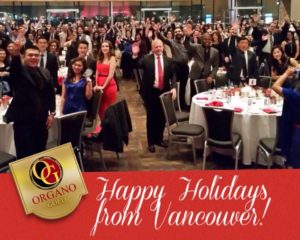 On Saturday, December 20, Organo Gold's Vancouver headquarters celebrated the holidays in style! Over 300 employees, vendors and guests filled the Vancouver Convention Center ballroom. Attendees feasted on an incredible buffet of smoked fish, prime rib and delectable salads and side dishes, then were treated to an array of desserts that were a modern take on some traditional Christmas favorites.
Organo Gold CEO and Founder Bernardo Chua started the evening by acknowledging and thanking everyone for jobs well done in 2014. Next, EVP of International Sales and Marketing Holton Buggs addressed the crowd, speaking about OG's market successes in 2014. He then invited Mr. Chua back to the stage to officially launch his Twitter account, "OGBernie" – so be sure to follow @OGBernie on his OG travels throughout the Twittersphere.
The following OG employees were recognized by their peers for their workplace achievements in 2014:
•      Most Knowledgeable: Christelle Robert – Sales
•      Cool As Ice: Magnus Magat – Design
•      Most Team/Company Spirit: Bonnie Bernal – Compliance
•      Leadership Award: Pamela Gotinga – Email Support
•      Unsung Hero: Gladys Chan – Accounting
•      King of Coffee: Mahan Salimian – Digital Programs
•      and Web Development
•      Queen of Coffee: Joan Leones – Admin
•      Mr. Sunshine: Olivier Lableau – Distributor Compliance
•      Ms. Sunshine: Sarah Melanson – Events
•      Go Beyond: Juan Forero – CSR
Congratulations to everyone who contributed to this being a banner year for Organo Gold — Happy Holidays to all and we look forward to exciting new things in 2015.