It's just one more day until OG ambassador Manny Pacquiao faces off against his opponent Floyd Mayweather in one of the most talked matches in boxing history. The hype has been intense these past few weeks, as both boxers have been training hard and exchanging friendly barbs in the media. It is shaping up to be one of the most watched fights of all time — and all eyes at OG will be on Manny as he enters this historic fight.
Like many boxers, we know that Manny has a softer side — both with his humanitarian work in the Philippines, his singing, and his focus on family. He also is known to enjoy a cup of Organo Gold coffee — the OG Gourmet Café Latte being his favorite. With his hectic schedule of training and other commitments, a guy like Manny doesn't have time to wait in line for a latte. But with OG's Gourmet Café Latte, he can have a delicious creamy coffee drink in seconds. Plus, Manny has gone on record in the past to say he likes the fact that he can enjoy a cup of OG because it is coffee minus the jitters. So with OG, a high performance athlete like Manny can still enjoy a luxurious latte, which features caffeine, plus the additional benefits of Ganoderma Lucidum, minus the jitters.
We're sure he'll have his jitters under control this Saturday, May 2, when he stands inside that boxing ring opposite Floyd Mayweather. We're not sure we'll be butterfly-free, but to ease our nerves, we thought we'd whip up a delicious batch of cookies in honor of Manny, featuring his favorite product, the OG Gourmet Café Latte. These would be great to serve at the Fight Night Global CMJ, or to enjoy anytime!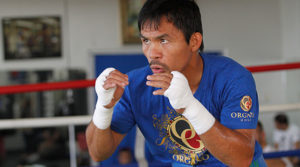 OG Coffee Cookies
Recipe by Sylvie Gattling (Munich, Germany, OG Family Holiday Cookbook 2014)
INGREDIENTS:
2-3 sachets Organo Gold Gourmet Café Latte
1⁄2 cup butter
1⁄4 cup sugar
1 tsp vanilla sugar
1 pinch salt
1 egg yolk
1 cup flour
1⁄4 cup ground almonds (almond meal)
1 jar red currant jelly
Confectioners (icing) sugar
DIRECTIONS:
1. Preheat oven to 400 degrees F (200 degrees C.)
2. In a large bowl, mix butter, sugar, vanilla sugar, salt and Organo Gold Café Latte. Add flour, ground almonds and egg yolk. Knead dough well until smooth and compact. Wrap it in foil and refrigerate for 2 hours.
3. Once the dough has been chilled, remove from fridge and begin forming cherry-sized balls.
4. Place balls on a baking sheet lined with parchment paper. Press a hole on top
of each ball using the end of a wooden spoon.
5. Bake cookies in oven for about 10 minutes. Then let them cool.
6. Dust cookies with icing sugar and fill the holes with warm red currant jelly and serve with a cup of Organo Gold Gourmet Café Latte.