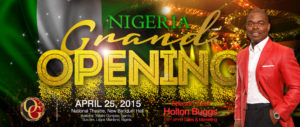 Since Organo Gold launched in Nigeria in May 2014, the company has thrived beyond even our wildest dreams. Of course, the hearty reception OG has received in this vibrant community and economy should come as no big surprise. Nigeria is often referred to as the "Giant of Africa", owing to its large population and economy. In 2014, Nigeria's economy (Gross Domestic Product) was officially declared to be the biggest in Africa, and is now valued at more than $500 billion.
Since it's opening in Nigeria on May 17, 2014, in a humble office on Toyin Street, Ikeja, Lagos, the OG Nigeria family has gained more than 40,000 registered members from different states nationwide. And OG registrations are expected to double this year!
On the 25th of April, Organo Gold will be celebrating the phenomenal success of OG Nigeria by holding a Grand Opening event at the National Arts Theater New Banquet Hall, Iganmu Surulere Lagos Mainland. This highly anticipated function promises to be the largest event of the year — and will be attended by OG executives, global leaders and OG Nigeria leaders. Renowned MLM top income earner and OG Executive Vice President of International Sales and Marketing Holton Buggs is certain to wow the crowd as the master of ceremonies.
Organo Gold would like to congratulate the OG Nigeria family for their achievements in their first year, and is proud to be organizing this event as a celebration of that success. As this successful celebration approaches, OG Nigeria is inviting each and every individual who is committed to changing the course of their lives to attend. The door will remain wide open to the life-changing opportunities that are awaiting everyone who joins the OG Nigeria family.