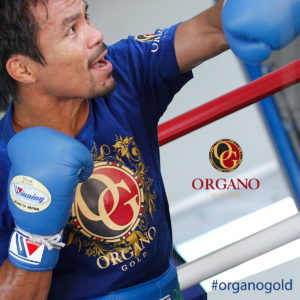 There are so many inspiring quotes and aphorisms that have arisen from the world of boxing. Whether it is fictional characters such as Rocky Balboa or legendary fighters such as Muhammad Ali, the boxing ring is a place that tends to inspire a fighting spirit in many.
As we here at Organo Gold anticipate Manny Pacquiao's so-called "Fight of the Decade" this coming Saturday, May 2, we know he is training harder than ever before. Manny himself has also shared many wise words about life and boxing over the years. Today, we thought we'd take a look at some memorable and motivational quotes from throughout the history of boxing:
"He who is not courageous enough to take risks will accomplish nothing in life."
~Muhammad Ali
"To be a champ you have to believe in yourself when no one else will." ~Sugar Ray Robinson
"Life is meant to be a challenge, because challenges are what make you grow."
~Manny Pacquiao
"If you know what you're worth, go out and get what you're worth."
~Rocky Balboa from the Rocky films
"The fight is won or lost far away from witnesses — behind the lines, in the gym, and out there on the road, long before I dance under those lights."
~Muhammad Ali
"The hero and the coward both feel the same thing, but the hero uses his fear, projects it onto his opponent, while the coward runs. It's the same thing, fear, but it's what you do with it that matters."
~Legendary trainer, Cus D'Amato
"If you practice hard, you can win every battle."
~Manny Pacquiao
"I hated every minute of training, but I said, 'Don't quit. Suffer now and live the rest of your life as a champion'."
~Muhammad Ali
"The question isn't at what age I want to retire, it's at what income."
~George Foreman at age 45, on his fight with Michael Moorer
"Ever champion was once a contender that refused to give up."
~Rocky Balboa from the Rocky films
"Thank you to every person who has told me I can't. You are just another reason I will."
~Manny Pacquiao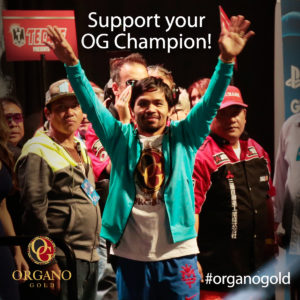 If these quotes sound familiar, that's because they echo the sentiments of our own knockout team of leaders — the Dream Team of Founder and Chief Executive Officer Bernardo Chua, Co-Founder and Global Master Distributor Shane Morand, and Executive Vice President of International Holton Buggs. These three inspiring and motivational men have fought to get where they are — and just like Ali, Foreman, Pacquiao and company, they know that a lot of the hard work is done not in the ring — not under the lights and in front of the cameras — but behind the scenes. Just like boxers, we all need to put in the effort into training in order to get winning results in public.
By attending the Organo Gold Global Convention this August in beautiful downtown Los Angeles, you'll be like these famous fighters — as you'll receive training from the best in the business. As they say in boxing, you've got to be in it to win it! Will you be there, at the convention center, watching OG's best and brightest help show you how it is done, and see them demonstrate the potential of this amazing company, products and opportunity?
This year's global convention promises to be a real winner— so secure your tickets and hotel accommodations today to ensure you do not miss this incredible event.