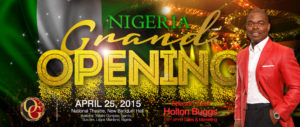 Nigeria is often referred as the "Giant of Africa", due to its large population and rich economy, it's the world's 32nd-largest country and the 7th most populous country in the world.
In 2014, Nigeria's economy (GDP) became the largest in Africa and the 21st largest economy in the world. The country is inhabited by over 500 ethnic groups, of which the three largest are the Hausa, Igbo and Yoruba.
Multiple languages and customs mark a country of rich ethnic diversity; its cultural heritage stands out within the continents history. English is the official language since 1960 – year of Nigeria Independence – enabling huge business opportunities to its blooming and mixed market economy.
Nigeria has also a florid cultural background in various fields:
Nollywood (Nigerian Hollywood) is now the 2nd-largest movie producer in the world industry.
This country is the birthplace of many worldwide artists and personalities such as Fela Kuti and his son Femi Kuti (Afrojazz multi-instrumentalists and human-rights activist) and Wole Soyinka (awarded the Nobel Prize in Literature in 1986). Nigerians are famous sport lovers too – particularly football and baseball – and can count among their ranks Nwankwo Kanu: famous football player, FIFA awardee and Unicef ambassador.
Featuring a huge naturalistic diversity of its flora and fauna, Robusta coffee -(Coffea canephora) that has its origins in central and western sub-Saharan Africa – found in Nigeria's lower altitudes and hot climate temperatures a flourishing land where grown. Hence this famous coffee quality is the most common and most exported from Nigeria.
Nigeria is not among the most prominent countries for coffee consumption, but the coffee industry saw an impressive growth in the past 5 years. These are just few of the reasons why Organo Gold selected the "Giant of Africa" as its 36th country in 2014. Enumerating such fast-growing economy, enormous population and cultural richness and diversity, Nigeria looks indeed a stronghold for the development of OG in Africa.
All the more reason to join us and our amazing EVP of International Sales Holton Buggs at Nigeria's Grand Opening event on April 25th, to celebrate such vibrant part of our Family!  For more info and purchase your tickets click here.