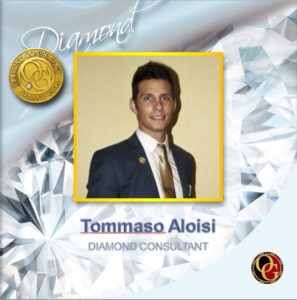 Introduce yourself
My name is Tommaso Aloisi, I'm 24 years old and live in San Giovanni Lupatoto, a little town near Verona. Before OG I was doing different jobs at the same time including being a stocker in a grocery store. I'm a simple guy with a big passion for football.
A very enthusiast friend first introduced me to OG. I just wanted to help him out so I bought few boxes of coffee – something I was already used to doing daily. After 3 months of him insisting I go, in December 2011, I went to the first event and it changed my life.
Who would you like to thank for achieving this incredible goad, becoming an OG Diamond?
I need to thank all the Distributors that work hard every day to achieve their goals, without them Organo Gold would not be here. A special thanks goes to those who stand by my side: the next Diamond Mattia Cersosimo, Gianni Zonta, Angelica Enache and Raffaella, my girlfriend.
How do you support your organization to reach the same results as yours?
We were always told that OG is an opportunity for everybody. I do my best to the others to enjoy it, have fun and work with passion. Also when people love what they do it spreads like wildfire and you become a team. Our secret is in fact to stand united.
You are really young, what would you like to say to same-age people that don't know Organo Gold yet?
I would suggest considering this opportunity. I'm fine if you want to join us or not. Moreover I ask "why would you like to work 40 years of your life and not simply spend one evening with us to see what we do and if what we say is true or not?".
What is your next step and how will you achieve it?
What does not grow, declines. Obviously I want to reach the next step.  I cannot expect more from others but can only expect more from myself. Helping people within my structure to reach their goals will allow me to reach my goals..