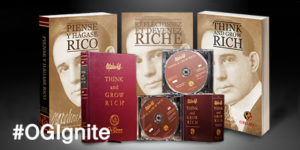 At Organo Gold, we have always been incredibly proud of our long-standing partnership with the Napoleon Hill Foundation. This exclusive business relationship gives Organo Gold a strong foundation for training, and the success of the ongoing partnership demonstrates how strongly the highly-respected foundation believes in the OG mission and products.
It's not uncommon to see copies of the special Organo Gold Collector's edition of Napoleon Hill's best-selling book, Think and Grow Rich,tucked under people's arms at OG events and training sessions around the world. Many of OG's successful distributors attribute the principles outlined in Hill's book for their success in business, and in life. In fact, millions of people worldwide have attributed their success to the Hill principles.
Hill wrote many other books, but this one is really special to us at Organo Gold, and its principles provide the cornerstone for some our leadership training programs. The support of the Napoleon Hill Foundation has been instrumental in helping OG to release audio books of the Organo Gold edition of Think and Grow Rich in both English and Spanish. And in October 2014 we were pleased to announce that Think and Grow Rich was now available in paperback in four new languages: French, Spanish, Italian and Russian.
In 2015, Organo Gold and the Napoleon Hill Foundation will continue to work towards the goal of getting this classic book released in as many languages as possible, so that we can share it with Distributors in all 37 countries where Organo Gold does business.
Because at OG, success is the universal language.
Get you copy here.