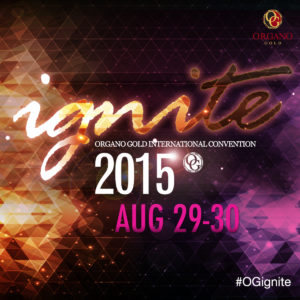 Organo Gold is counting down the days until the 2015 Global Convention — which promises to be bigger than any other event in the company's already impressive history of staging world class conventions. Adding to the anticipation is the fact that this year's global convention will be hosted by Los Angeles. The so-named City of Angels is known as the epicenter of glamour, entertainment and sunshine. We are so incredibly proud to have this vibrant North American city hosting our event this August — and look forward to welcoming OG members from all corners of the globe.
The OG Dream Team — that is Founder and Chief Executive Officer Bernardo Chua, Co-Founder and Global Master Distributor Shane Morand and Executive Vice President of International Sales Holton Buggs — will be in attendance and they all cannot wait to celebrate another year of incredible success.
The convention promises all of the things you'd expect of such a world class event — recognition, leadership development, global announcements, events, and so much more. Plus, this year's theme is IGNITE — and we just know all of our OG Distributors from all across the world are getting ready to land in LA and IGNITE their dreams. 
For those traveling to Los Angeles, there are of course many other popular attractions in the vicinity. The place known as the most magical on earth,Disneyland, is alluring to children and the young at heart alike. Universal Studios shows movie and TV fans a behind-the-scenes look at some of their favorite film and television sets — and shows how the movie magic happens. Then, many visitors travel to Hollywood's Chinese Theater (formerly known as Grauman's Chinese Theater) cinemas, to see the finished product up on the silver screen — and to see where some of the big screen's biggest names have had their handprints immortalized forever in concrete. Organo Gold has arranged for interested Convention attendees to receive special group discounts on tours to these and other prominent LA landmarks. So be sure to inquire about the dates, times, booking requirements of these special group tours for OG Distributors and their family members.
The average temperature in Los Angeles in August is a sunny and very pleasant 72°F / 22°C. So be sure to pack your sunscreen, your summer clothing, comfortable shoes and a camera to capture all of the LA attractions you see.
We look forward to welcoming all convention ticket holders to beautiful Los Angeles to IGNITE their OG dreams! Be sure to secure your tickets and hotel accommodations today and get ready to shine.