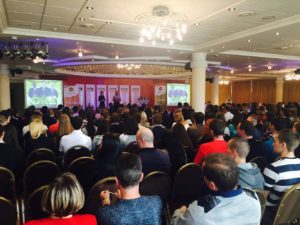 It certainly was a super Saturday in Kiev this past weekend, when Organo Gold staged a spectacular Super Saturday event on November 8. A staggering 365 OG Distributors and their guests filled the venue, and wowed presenters with their enthusiasm and spirit.
Present at the special event were Ukraine Country Manager Julia Skokhorod and OG Vice President of Marketing for Europe Carmen Pratt. Some of the Ukraine's most successful achievers to date were also in attendance, including Diamond, Varlam Grigoryan, Emerald, Armen Yurievich Gabrielyan, and plenty of Sapphire Distributors.
One of the most memorable moments was when all the leaders openly shared the information regarding by which month they will have achieved their next level. And Varlam shared that for his very first Super Saturday, which happened to fall on his birthday, eight of his leaders called everyone they knew, and within 10 hour, they had together presented him with 510 attendees! That truly does demonstrate the sheer power that Organo Gold has to bring people together, and help one another to succeed.
Attendees also may just have attained some "super powers" at the successful event, as they received trainings based on OG Co-Founder and Global Master Distributor Shane Morand's teachings.
Congratulations to all those in the OG Family for all of their hard work in making this event such a super success! Click here to view photo's of the event.