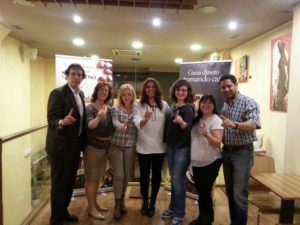 Our 2nd Global CJM Day is coming up on April 4rd! To get you ready for the big event, we sat down and interviewed Eugenia Mendoza Cova, winner of the first Global CJM Day Prize Pack, and talked to her about all things CJM. 
Where did you host the first Global CJM Day on March 7th?
I rented out a room at a local wellness and leisure centre and hosted my CJM there.
How many guests did you have? How many had you invited in the first place?
I invited over 20 people and 9 actually attended.
Who did you learn how to host a CJM from?
I learned how to successfully host a CJM from the spectacular Leaders guiding us: The Rubies Jordi Oviedo and Lidia Lorenzo and the Diamond Maria Jose Fernandez Soto. I have also learned a lot from my marvellous colleagues Dairley Azevedo and Liliana Gutti.
Which is the key to host a successful CJM? 
The key is it to be spontaneous, sincere, and above all, ask the right questions so people can see that OG is an excellent opportunity that can change their life.
What would you recommend to someone hosting a CJM for the very first time? 
Firstly, ask for help from an experienced leader or colleague to make sure that everything will go smoothly.
But if you don't have anyone to help you, the most important thing is that you are fully convinced of how amazing this opportunity is. That's the only way you will be able to engage your guests and make them see that this business opportunity can change their lives and that you will be there to help them.
How are you preparing for the next Global CJM Day?
Sending out lots of invitations!