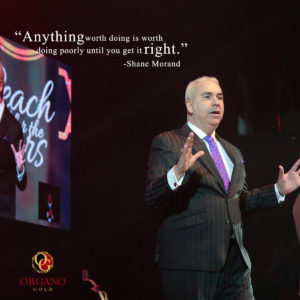 At Organo Gold, leadership is one of the characteristics we are constantly trying to train, augment and improve, at every level of the Company. Leadership can have many different definitions for different people. But there does tend to be a consensus when it comes to the qualities that are shared by leaders in business.
Here are five of the top characteristics shared by people in leadership roles in business:
1. Passion: Great leaders not only show passion for their work and believe their work is important, they also have the ability to share that passion and enthusiasm, which can help motivate those around them to become more productive.
2. Communication: Strong leaders know how to communicate effectively with people working at all levels of the company, from high level executives to support staff. Good leaders are always good communicators — and know how to keep everyone informed when changes or updates to projects occur.
3. Commitment: Good leaders understand that success isn't possible without the help of everyone on the team. Providing ample training opportunities and expressing confidence in their work lets everyone on the team know that they are important and that their leader is invested in them.
4. Team Building: Great leaders encourage everyone to work together, rather than competitively, which results in higher productivity and improved morale. Encouraging a cooperative atmosphere and group problem solving helps to ensure that tasks are completed efficiently and more effectively, and without any interpersonal conflicts.
5. Decisiveness: Successful leaders make decisions that are quick, logical and correct. This truly is one of the hallmarks of great leadership. Being quick, committed, analytical and thoughtful when making decisions is an important part of gaining and retaining the confidence of others. For those unaccustomed to making important decisions, developing a spreadsheet to evaluate drawbacks and advantages can help people to focus on the issue and improve those quick-thinking skills that lead to decisiveness.