On the eve of Valentine's Day, there's one particular product we reach for — Organo Gold Royal Brewed coffee or BrewKups. This extremely special coffee is perfect for such an occasion, where we like to treat our loved ones — and why not ourselves — like royalty. This rare and highly sought-after coffee is one that flourishes in the lush ecosystem of the renowned Jamaican Blue Mountain range, an area that is considered the perfect setting for coffee bean cultivation. This particular bean is harvested only once a year — making Royal Brewed the ideal coffee to share with your significant other on the annual celebration of love that is Valentine's Day.
In keeping with this royal theme, we thought we'd take a look at some of the more regal historical facts about Valentine's Day this Fun Fact Friday.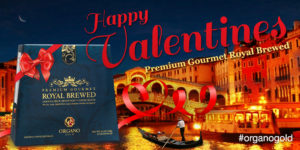 5 Fun Facts:
•    The earliest description of February 14 as an annual celebration of love appeared in the Charter of the Court of Love. The charter, which is believed to have been issued by Charles VI of France in 1400, describes lavish festivities attended by several members of the royal court, including a feast, amorous song and poetry competitions, jousting and dancing.
•    Some people believe that the first recorded association of Valentine's Day with romantic love is in the poem "Parlement of Foules"written by Geoffrey Chaucer in 1382. Chaucer wrote: "For this was on St. Valentine's Day, when every bird comes there to choose his mate."
•    The Chaucer poem was written to honor the first anniversary of the engagement of King Richard II of England to Anne of Bohemia.
•    William Shakespeare wrote of Valentine's Day in his renowned work Hamlet, the tale of the Prince of Denmark. In it, Hamlet's love Ophelia sings "Tomorrow is Saint Valentine's day, All in the morning be time, And I a maid at your window, To be your Valentine."
•    Renowned china company Royal Doulton was known in the 1970s and 1980s for the collectable plates it issued to commemorate St. Valentine's Day.