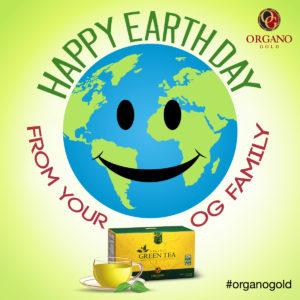 Organo Gold is closely tied to the earth. Our mission of "bringing the treasures of the earth to the people of the world" is dependent in many ways on the care and protection of the environment. The organic Ganoderma Lucidum which we cultivate in China, and which is at the core of our products, requires clean soil, air and water to protect its delicate yet powerful properties. Because of that, for us at OG — every day is really earth day.
But what exactly is the official Earth Day? Earth Day is an annual event, celebrated on April 22, when events are held worldwide to demonstrate support for environmental protection. The day was officially celebrated for the first time back in 1970, and is now coordinated globally by the Earth Day Network, who are proud to say that their day is now celebrated in more than 192 countries.
How does your family or your OG team mark the occasion? Here are a few ideas for OG and earth-friendly gatherings:
OG Goes Green
Invite friends and family members around for an OG Goes Green themed mixer, serving OG Organic Green Tea.
Plant an OG Tree
Earth Day is a great day to plant a tree, adding new life and greenery to your community. Investigate local events and tree planting ceremonies — because many organizations use Earth Day as an occasion to remind people how fun and rewarding community gardening can be, in addition to being good for the planet.
Decorate an OG Tree
In the vein of artist and peace activist Yoko Ono's Wish Tree project, why not invite friends and family over to enjoy some OG products, and have everyone make a wish and decorate a tree? Yoko Ono uses an olive tree to symbolize peace, but you could use any kind of tree you choose. See more instructions on the link above on how to make your Wish Tree dreams a reality today.
A happy and healthy Earth Day to everyone in the OG Family from all of us here at OG!