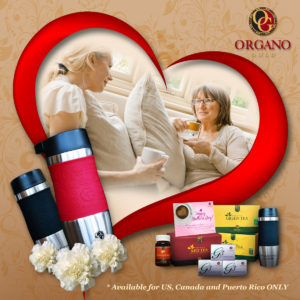 Mothers really are the whole package. So to help everyone in the OG Family celebrate Mother's Day and recognize the unconditional love of mothers worldwide, we have created the ultimate Mother's Day Promo pack.
This limited edition pack features a selection of some of Organo Gold's most sought-after products, as well as a free stainless steel OG tumbler — designed to keep your (or mom's) Ganoderma-infused Organic Green Tea or Red Tea warm no matter where you are. To make life even easier, and mothers everywhere even happier, the special gift kit even comes with a beautiful, specially-designed OG Mother's Day card — because we know moms love a lovely card!
Each OG Mother's Day Promo Pack includes:
• 1 FREE OG Stainless Steel Tumbler — available in red or black (limited to 450 of each color)
• 1 FREE OG 2015 Mother's Day Card
Only 900 of these special, limited edition Mother's Day Promo Packs are available, from April 21 through May 17. (Available in America, Canada and Puerto Rico only.) To be sure the special mothers in your lives do not miss out, log in to your BackOffice to order your packs now. Because maternal love is eternal. And because all moms deserve the goodness of OG.