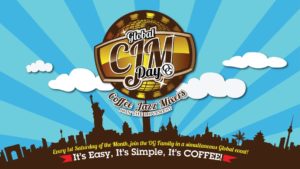 Beginning this Saturday March 7, Organo Gold is declaring the first Saturday of every month to be "CJM Saturday." CJM of course is referring to OG's Coffee Jazz Mixers — events which provide the perfect platform to share the OG products and business opportunity.
The goal of a Coffee Jazz Mixer is to not only showcase the products, the benefits of Ganoderma and the OG business, but to provide all Distributors with a quick and easy way to show and sell products to people outside of their social circle, thus increasing the customer base and attracting new Distributors.
To support all OG Distributors, from experienced to new, we're establishing one Saturday a month as Global CJM day. We hope to encourage OG Distributors to regularly organize these super successful CJMs, and to offer a casual atmosphere where potential customers can sample OG's ever-increasing range of delicious and beneficial products. The ideas and themes are endless: why not try a "Vanilla Caramel CJM" and sample our newest BrewKup flavor for friends and colleagues who just can't get enough of their favorite single-serve coffee? Or, for Distributors who have musician friends or burgeoning musicians in the family, why not try a "Live Jazz" version of the CJM, for a truly dynamic event!
In celebration of the inaugural Global CJM Saturday on March 7, we're offering special prizes to 10 lucky Distributors. To be eligible to win, Distributors can simply share their CJM Saturday pics on social media using the hashtag #GlobalCJM. Then upload the photos from the Saturday CJMs between Saturday, March 7 and Wednesday, March 11 to be in the running. On Thursday, March 12 we'll choose 10 photos at random. The lucky winners will be announced on Friday, March 13!
We're so looking forward to the first Global CJM Saturday this weekend, and Distributors around the globe still have a couple of days to plan their events!