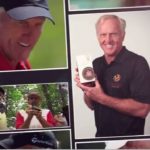 There are plenty of famous Australians in entertainment and sports. But in the wake of the recent Australia Day celebrations on January 26, 2014, we're extra proud of our Organo Gold Distributor and Global Brand Ambassador— renowned golfer Greg Norman. The Australian-born, now Florida-based pro golfer won many titles and a killer reputation on the PGA international golfing circuit, earning himself the nickname "The Great White Shark". Norman will always have that "killer" nickname. But here at Organo Gold, we might have to start calling the Aussie "The Great Mocha Shark", due to his fondness for Organo Goldl Café Mocha.
Norman's role at Organo Gold was announced at the OG international convention in Las Vegas last year. In addition to his well-honed world-class golf skills, Norman also has a truly entrepreneurial spirit. So, after retiring from the grueling pro-golf circuit, he put his winning talents to work in the business arena. And just as he succeeded on the golf course, he's made a winning career of many businesses.
His company, Great White Shark Enterprises (GWSE) has had great success in many different ventures — including premium steaks, wine, sportswear and golf course design and development. "In very similar fashion to Organo Gold, Great White Shark Enterprises was built upon an entrepreneurial platform," says Norman of his company GWSE. For this celebrated sportsman and entrepreneur with a clear winning streak, Organo Gold was a natural fit. "I was amazed to see the opportunity that Organo Gold has afforded to so many people. Organo Gold has mastered the convergence of the right product with the optimal distribution system," Norman continues.
For more information on Greg Norman's work with OG, stay tuned to all of our social media channels this week, when we'll be staging our very own "Shark Week" featuring highly shareable tips, tidbits, interviews, competitions and much more — all starring the Great White Shark himself.
Get to know Greg Norman by the numbers:
2          Major Championship Victories (The British Open in 1986 and 1993)
3          Arnold Palmer Awards as the PGA Tour's leading money winner (1986, 1990, 1995)
20        Victoria on the PGA Tour
91        Career Victories
331      Weeks as the World's #1 Golfer (second-highest number in pro golf history)
#10 Million     Norman was the first professional golfer to surpass $10 million in career earnings
Want to know more about Greg Norman? Stay tuned this week as Organo Gold celebrates #sharkweek.