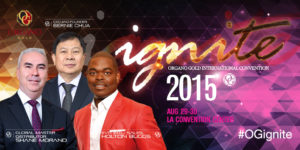 We are beginning to get very excited about the 2015 Organo Gold global convention later this year. Not least because this year, the not-to-be-missed event will be taking place in the beautiful city of Los Angeles.
Some of the biggest stars of OG will take to the stage at the Los Angeles Convention Center (LACC) on August 29 and 30, and we are thrilled to be staging such an important event at this impressive venue. For those who are not familiar witht he LACC, we thought we'd help you get to know the center a little better before OG arrives at the end of August.
•    As befitting the star-studded city of LA – which is home to Hollywood and renowned as the epicenter of the film and entertainment industry – the LACC has served as the set for numerous scenes in movies and TV series alike, including award-winning films such asGone Girl and Interstellar, and TV shows such as New Girl, Grey's Anatomy, Parks & Recreation, Revenge, House of Lies and many more.
•    Located in the heart of vibrant Downtown Los Angeles, the center attracts more than two million visitors annually, and is internationally renowned as a leading destination for conventions, trade shows, and exhibitions.
•    The center is devoted to environmental sustainability, and its committment to environmental stewardship and green practices has been recognized by several institutions and organizations, including the U.S. Environmental Protection Agency and the United States Green Building Council.
•    The large building has the rare honor of being rated as a LEED Gold certified facility, by the US Green Building Council. Some of the highly environmental features of the bulding include the use of solar generation panels, which feed renewable energy back to the local grid, and a so-called "cool roof" and light defusing windows, which reflect sunlight and heat away from the building, and mean the center is less reliant on artificial air-conditioning.
•    The center is also highly water-conscious, which is both admirable and necessary in drought-stricken Los Angeles Country. The LACC boasts water-efficient kitchen dishwashers that helps save close to 630,000 gallons of water each year. 
Don't have your tickets yet?  Click here and remember… don't do it now, do it right now!