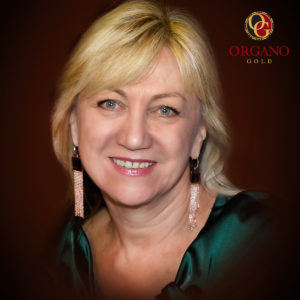 When she immigrated to Manitoba, Canada with her family from Poland at the age of fourteen, Josie Morand could not speak a word of English. But, learning from her father, who taught himself English very quickly to seek out better job opportunities to provide for his family, she learned fast, and at seventeen started what would be a successful career at the Royal Bank of Canada. Now, Josie is retired, and spends much of her time helping her high profile husband, OG Co-Founder and Global Master Distributor Shane Morand, behind the scenes, where she feels right at home.
Josie sat down with us to share her inspiring story, and spoke about opportunity, inspiration, and the importance of family, balance, spontaneity and hugs.
Who are you, Josie Morand, and what is your story?  
My family has always been very close-knit, and remains so today. In Poland life was much harder. My parents were farmers working around the clock and raising five children. Although we had very little, I always remember my mom welcoming people who had no family, or those in need of a meal, into our home, explaining to us that there is always enough for one more person. That was such a great lesson, and one that I will always practice.
My father saw this country as an opportunity for his family, and repeatedly told us that if we did not succeed in doing something at first we needed to do it again, and again, and again. I followed his advice, and at the age of seventeen, I went to work for the Royal Bank of Canada, where I quickly moved up the ranks. I studied computer science, marketing, payroll, human resources and other areas of banking. I enjoyed my entire career in banking, at the Royal Bank of Canada, and took early retirement to support my husband, Shane, in his Organo Gold business.
What inspires you every day?
I am inspired by my husband's positive mental attitude — just seeing him wake up inspired also inspires me. Sometimes if I wake up with a little pain or concern, I just think of Shane and know that there are still so many things that I am put here to accomplish. I am a hands-on person, and as a founding board member for the OG Cares Foundation, I have much to do. I also love to cook for neighbors, friends, and family that appreciate a home cooked meal, and use the telephone to support causes that OG Cares is sponsoring. I look forward to and give thanks each day with gratitude for the goodness that is in my life – Shane, my daughter, my son-in -law and my four wonderful grandchildren. There is nothing that I can complain about, but there are so many things that I am grateful for.
How do you balance your family and business life?
Now that I am retired, this is easier for me to do, because I can dedicate my time to helping out with all of the behind the scenes work for Shane — I like to be the background person. It is fulfilling for me, because I truly know what the results are as Shane spends his time helping people all over the world.
How an OG Woman can be successful as mother, wife, and business person?
In order to be successful on many levels, an OG woman must set her priorities. You must delegate time for business and home life. Most importantly, you must never give up who you are. Continue to do the things that you enjoy doing, and do them religiously. By that I mean, never compromise yourself for a job and/or money. Sometimes business has to work around life, otherwise people can become changed. We all need good energy, and if we feel that money or work is creating "bad energy" in our lives, then we need to get back to the basics of who we really are and what makes us happy.
What is the most important thing in your life?
Family, family, family. And more family! Shane comes first and then all the others in my immediate family – my daughter, son-in-law, my grandchildren, and my siblings and their families. I have many interests and the main ones are cooking, gardening, and reading.
Anything else you would like to share with our OG Family?
Tell people you love them and hug them more. Neither of these two things are done enough. Do little things daily on the spur of the moment. Be spontaneous.  Act with your heart. Don't look at how much money you can give, but rather spend time. This makes a huge impact and a huge difference.