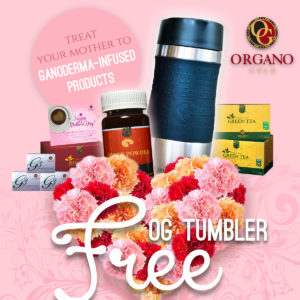 Every year, billions of people around the world set aside one special day to celebrate the unconditional love and devotion of the woman who has shaped us into who we are now – our mother.
Here at OG, we've created our very own way of celebrating Mother's Day. Our limited edition Mother's Day Promo Pack not only features a combination of some of OG's most popular products, but also comes with a FREE stainless steel OG tumbler – perfect for keeping your Ganoderma-infused Organic Green Tea or Red Tea warm no matter where you go.
Plus, each Mother's Day Promo Pack comes with a specially-designed OG Mother's Day card – making this limited edition promo pack the perfect gift for all the mothers in your life.
Each of these heart-warming Mother's Day Promo Packs includes:
• 1 G3 Soap 3-Pack
• 1 FREE OG Stainless Steel Tumbler — available in red or black (limited to 450 of each color)
•   1 FREE OG 2015 Mother's Day Card
Only 900 of these special promo packs are available, so hurry and log in to your BackOffice to get yours now.
[*Mother's Day Promo Pack is available for US, Canada and Puerto Rico only. Promo ends May 17, 2015]