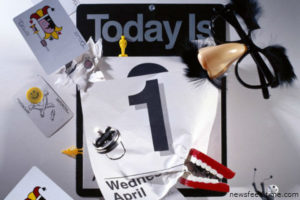 People have a fun time on April 1st here in North America … after some quick research, we found out that we were not alone; the whole world participates in April Fool's jokes. Remember to start your day with a cup of Organo Gold because it's going to be a long one!
1. April Fools' Day (sometimes called All Fools' Day) is celebrated every year on the first day of April, as a day when people play practical jokes and hoaxes on each other.
2. The jokes and their victims are known as "April fools".
3. Hoax stories may be reported by the press and other media on this day and explained on subsequent days.
4. Popular since the 19th century, the day is not a national holiday in any country, but it is well known in Canada, Europe, Australia, Brazil and the United States.
5. The custom of setting aside a day for the playing of harmless pranks upon one's neighbor is recognized in many nations across the globe.
6. Some precursors of April Fools' Day include the Roman festival of Hilaria, the Holi festival of India, and the Medieval Feast of Fools.
7. In the Middle Ages, New Year's Day was celebrated on Lady Day, the Feast of the Annunciation on 25 March, in most of Europe. The feast's octave was 1 April. The holiday may have originated in France as part of the shift to celebrating New Year's on 1 January, a move formalized as part of the 1564 Edict of Roussillon.
8. In 1508, French poet Eloy d'Amerval referred to a poisson d'avril (April fool, literally "April fish"), a possible reference to the holiday. In 1539, Flemish poet Eduard de Dene wrote of a nobleman who sent his servants on foolish errands on 1 April.
9. Some writers suggest that April Fools' originated because those who celebrated on 1 January made fun of those who celebrated on other dates.
10. In the UK, an April fool joke is revealed by shouting "April fool!" at the recipient, who becomes the "April fool". A study in the 1950s, by folklorists Iona and Peter Opie found that in the UK, and in countries whose traditions derived from the UK, the joking is supposed to cease at midday. Any person playing a joke after midday is then considered the "April fool" themselves for breaking this rule.
11. In Scotland, April Fools' Day was traditionally called "Huntigowk Day," although this name has fallen into disuse. The name is a corruption of "Hunt the Gowk" — "gowk" being Scots for a cuckoo or a foolish person.
12. Norwegians, Danes and Swedes celebrate April Fools' Day (aprilsnar in Danish). Most news media outlets will publish exactly one false story on 1 April; for newspapers this will typically be a first-page article, but not usually the top headline.
13. In Italy, France, Belgium, and French-speaking areas of Switzerland and Canada, the April 1 tradition is often known as "April fish" (poissons d'avril in French or pesce d'aprile in Italian). This includes attempting to attach a paper fish to the victim's back without being noticed. Such fish feature prominently on many late 19th- to early 20th-century French April Fools' Day postcards.