As one of the world's oldest holidays, Halloween is still celebrated today in several countries around the globe. As the company known to bring treasures (and treats) of the world, to the people of the world, at ORGANO™ we are celebrating in many of the countries we are currently operating in around the world! This is the day to settle in with your favorite ORGANO™ brew, while adults and children alike revel in a little "knock-a-dolly" and "trick-or-treating" on this annual holiday.
Halloween and All Hallows' Eve, is a celebration observed on October 31st (in most cases), the day before the feast of All Hallows'.
Canada: Modern Halloween celebrations in Canada began with the arrival of Scottish and Irish immigrants in the 1800s. Jack O'Lanterns are carved and the festivities include parties, trick-or-treating and the decorating of homes with pumpkins and corn stalks.
United States: Due to lingering Puritan traditions, Halloween did not become a holiday until the 19th century in the United States. The transatlantic migration of nearly two million Irish brought the holiday to the United States. All Halloween customs in the United States are borrowed directly, or adapted from these other countries:
Ireland: In Ireland, believed to be the birthplace of Halloween, the tradition is still celebrated as much as it is in the United States, where children dress up in costumes to spend the evening "trick-or-treating" in their neighborhoods. After the visiting, most people attend parties with neighbors and friends. Children are also known to play a trick known as "knock-a-dolly," where children knock on the door – but then run away before the door is opened.
Austria: In Austria, some people will leave bread, water and a lighted lamp on the table before retiring on Halloween night. The reason for this is because it was once believed such items would welcome the past souls back to earth on a night which, for the Austrians, was considered to be brimming with strong cosmic energies.
China: In China, the Halloween festival is known as Teng Chieh. Food and water are placed in front of photographs of family members who have passed, while bonfires and lanterns are lit in order to light the paths of the spirits as they travel the earth on Halloween night.
Philippines: The period from October 31st through November 2nd is a time for remembering passed friends and family members. Trick-or treating is gradually replacing the tradition of Pangangaluluwà. Some provinces in the Philippines still celebrate "Pangangaluluwa" by forming a group that will go house to house and offer a song in exchange for money or food.
England: At one time, English children made "punkies" out of large beetroots, upon which they carved a design of their choice. Then, they would carry their "punkies" through the streets while singing the "Punkie Night Song" as they knocked on doors and asked for money on Halloween night. Another custom was to toss objects such as stones, vegetables and nuts into a bonfire to frighten away the bad spirits.
France: Unlike most nations of the world, Halloween is not celebrated by the French in order to honor their departed ancestors. It is regarded as an "American" holiday in France and was virtually unknown in the country until around 1996.
Hong Kong: The Halloween celebration in Hong Kong is known as "Yue Lan" (Festival of the Hungry Ghosts) and is a time when it is believed that spirits roam the world for twenty-four hours. some people burn pictures of fruit or money at this time, believing these images would reach the spirit world and bring comfort to the ghosts.
Japan: The Japanese celebrate the "Obon Festival" (also known as "Matsuri" or "Urabon") which is similar to Halloween festivities, in that it is dedicated to the spirits of ancestors. Special foods are prepared and bright red lanterns are hung everywhere – and also set afloat on rivers and boats.
Singapore: Around mid-July Singapore Chinese celebrate "Zhong Yuan Jie / Yu Lan Jie" (Hungry Ghosts Festival), a time when it is believed that spirits of the past come back to visit their families. In recent years, Halloween celebrations are becoming more popular, with influence from the west – which includes Universal Studios Singapore hosting "Halloween Horror Nights".
Korea: In Korea, the festival similar to Halloween is known as "Chusok." It is at this time that families thank their ancestors for the fruits of their labor. The family pays respect to these ancestors by visiting their tombs and making offerings of rice and fruits. The "Chusok" festival takes place in the month of August.
Mexico, Latin America and Spain: Among Spanish-speaking nations, Halloween is known as "El Dia de los Muertos." It is a joyous and happy holiday, and officially commemorated on November 2 (All Souls' Day). This three-day celebration actually begins on the evening of October 31st, designed to honor passed relatives who are believed to return to their homes on Halloween.
Sweden: In Sweden, Halloween is known as "Alla Helgons Dag" and is celebrated from October 31st until November 6th. As with many other holidays, "Alla Helgons Dag" has an eve which is celebrated, and usually becomes a shortened working day, while school-age children are given a day of vacation.
Celebrate with a good brew – Pumpkin Spice ORGANO™ Café Latte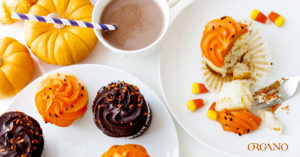 You will need 1/2 cup hot milk, 1 teaspoon sugar, 1/2 teaspoon of vanilla extract, 1/4 teaspoon pumpkin pie spice, 1 tablespoon whipped cream AND 1 sachet of ORGANO™ Gourmet Café Latte. Combine the hot milk, sugar, vanilla extract, and pumpkin pie spice in a blender; blend until frothy. Pour the mixture into a coffee mug – about 1/2 full. Fill the rest of the cup with your ORGANO™ brew. Garnish with whipped topping and pumpkin pie spice – it's scary good, and your guests will love it a-latte!
All around the world, and not just on Halloween, people are waking up to the incredible taste and benefits of ORGANO™ premium gourmet beverages. No need to go knocking door to door – just wake up, smell the aroma and #TastetheGold with ORGANO™ today!