Today is the day that the Irish, and the Irish-at-heart across the globe, observe St. Patrick's Day. What began as a religious feast day for the patron saint of Ireland, has now become an international festival celebrating Irish culture. People all over the world celebrate St. Patrick's Day on March 17th – join the   ORGANO™ Global Family today as we celebrate St. Patrick – and all things green!
Swashbuckling Pirates & Patron Saints: Legend has it that when Patrick was 16 (not yet a Saint), he was captured by Irish pirates from his home in Great Britain and taken to Ireland where he served as a slave tending sheep. Patrick came to view his enslavement as a test of his faith, during his six years of captivity before he was able to escape and return home to his family. It is said that Patrick had a re-occurring vision where he saw the children of Ireland reaching out their hands to him, and that is why he later returned to northern and western Ireland where he was a missionary first, then a bishop, and by the seventh century – St. Patrick had come to be revered as Ireland's Patron Saint.
Shamrocks & Leprechauns: No doubt – the shamrock has long been a symbol of Ireland and St. Patrick's Day, partly due to the natural abundance of clover plants in the country, but largely due to the legend that says St. Patrick used the shamrock as a visual aid to illustrate the fundamental concept of the Holy Trinity. Another Irish folkloric fairy, and St. Patrick's day favorite, is that little bearded man wearing a green top hat and coat – the Leprechaun!  While the primary occupation of the Leprechaun is mischief making,  they are typically associated with luck and wealth due to their overflowing pots of gold – typically at the end of a rainbow – which are said to be their hidden treasures from war times past. Whether or not these legends are true, the shamrock and Leprechaun are regarded as national icons of Ireland and St. Patrick's Day mascots.
Go Green with ORGANO™ and Ganoderma: The color of green has been associated with Ireland since at least the 1640s, when the green harp flag was used by the Irish Catholic, as well as green ribbons and shamrocks that have been worn on St Patrick's Day since the 1680s. In honor of this special occasion, why not add an element of zen to your St. Patrick's Day with a soothing cup of ORGANO™ Organic Green Tea. This flavorful tea combines the best organic green tea leaves packed with flavonoids and our renowned organic Ganoderma lucidum mushroom – for a truly invigorating cup of tea to enjoy fireside at the end of the day (or at the end of a rainbow landing in a pot of gold)!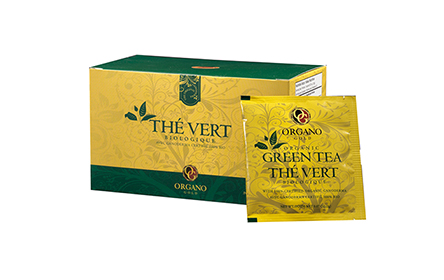 Best stated in this Irish blessing; May you always have walls for the winds, a roof for the rain, tea beside the fire, laughter to cheer you, those you love near you, and all that your heart might desire!  From the ORGANO™ Global Family to yours – may your shamrock be one of four leaves, may the luck of the Irish be upon you and yours, and may OG's Green and Gourmet Tea Blends comfort and sooth your blues. #WeAreOrgano #TasteTheGold