To "Go Green" means opting for a sustainable and renewable way of living – focusing on reducing, reusing and recycling to reduce the imprint we leave on the environment. Going green is a gradual process of change – to use products that promote a healthier environment and lifestyle. In the spirit of going green, and adding an element of zen to your daily lifestyle – ORGANO™'s Organic Green Tea combines the best organic green tea leaves and is enhanced with our renowned organic Ganoderma lucidum mushroom, for a truly invigorating cup of green tea!
Camellia Sinensis – Chayi and Cha Wenhua – What? Legend has it that green tea was first brewed in 2737 BC and, second only to water, tea is the most popular drink consumed worldwide!  The consumption of tea has its legendary origins in China dating back to more than 4,000 years ago, making it the oldest plant-based tea known to mankind. The concept of tea culture is referred to in Chinese as chayi ("the art of drinking tea"), or cha wenhua ("tea culture"). The word cha means that the tea is derived from Camellia sinensis, the tea plant!
Going Green with ORGANO™ – When & Why? There are several special circumstances in which ORGANO™ Gourmet Tea Blends and Organic Green Tea can be prepared and consumed globally speaking – first and foremost – as a sign of respect.  In traditional Chinese society, members of the younger generation shows their respect to members of the older generation by offering a cup of tea. Tea is also used to express gratitude and celebrate many of life's milestones.  In the traditional Chinese marriage ceremony, the bride and groom kneel in front of their respective parents and serve them tea and then thank them, which is a devout way to express their gratitude for being raised.  Of course, the  most popular occasion to enjoy your favorite OG Gourmet Tea Blends – is morning, noon and night – all day and every day!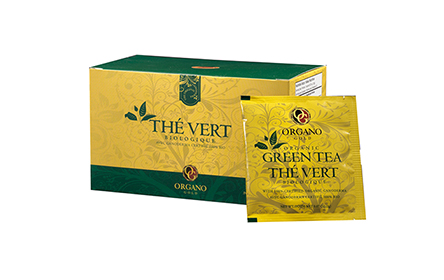 At ORGANO™, we understand that "Going Green" requires a new way of thinking. We must modify the way we look at the world, especially as consumers, if we want to be responsible stewards of the Earth. And, there is no better first step – than to fill your cup to the brim with any one of the ORGANO™ Gourmet Tea Blends.  And, remember – Think Green with OG!
Sources:
https://en.wikipedia.org/wiki/Green_tea